On a day like today where the weather is teetering between 13C & 16C you get to feel a bit bored. It has just been cloudy all day and I really feel like cooking something comforting. At the top of my comfort food list is steamed minced pork with Tung Choy.
I still remember the happiness I felt when I moved from Devon in the South West to outer London and found tung choy in Chinatown. It's amazing how we missed the things of our youth as we inevitably grew older.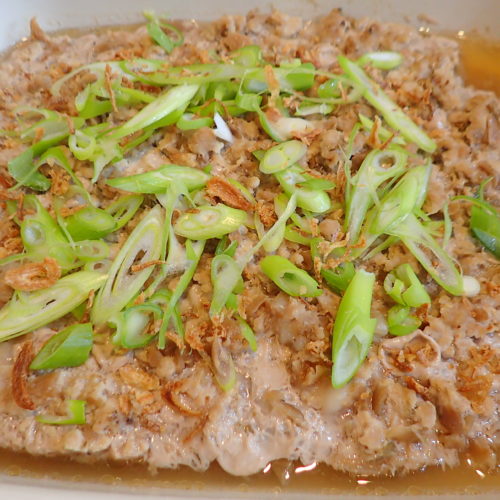 Steamed Minced Pork with Tung Choy (冬菜蒸猪肉)
Ingredients
500

g

mince pork

100

g

tung choy

½

tsp

sugar

1

tbsp

cornstarch

1

tbsp

sesame oil

1

tbsp

rice wine

1

tsp

soy sauce

freshly ground pepper

½

cup

water

spring onions

crispy onions/garlic
Instructions
Start by washing your tung choy. Rinse it in water about 5 to 6 times until water runs clear.

Mince your pork and add in the cleaned tung choy. Mince into your pork.

Add in the cornstarch, sugar, sesame oil, soy sauce, rice wine, pepper and mince well. Place into a large heatproof dish for steaming or a stainless steel dish. Tip in the water, and place into your ready steamer. Let it sit there for half and hour or so for all the marinate to seep in.

Turn on the heat and steam for 15 minutes or so.
Notes
Serve sprinkled with sliced spring onions and crispy onions too if wish. Eat with pain white rice and even my Mat Salleh love this dish!