Sarawak Laksa – a dish I cook a few times a year when I feel the urge and when I really miss the taste and when I feel hardworking. I always ended up slurping a big bowl of the broth.
I am quite particular when cooking Sarawak Laksa. I will buy fresh prawns, clean them, fry the heads and make a pot of prawns broth. You can do this days or weeks ahead.
Then I will buy a corn fed chicken and boil it for chicken broth. Then both the broths with be combined to make the main stock. Fry the Sarawak paste and then add in the broths and bring to a boil. Then simmer slowly for an hour before sieving to another bowl. TIP – You can make this the night before than on the day you reheat and add in your coconut milk and evaporated milk.
To make my sambal to go with this I always used the sieved paste, fry with the 'oil' from the Sarawak Laksa broth with added belacan, dried chillies, udang kering (dried shrimps) and season with pinch of sugar to taste. Please refer to the pics.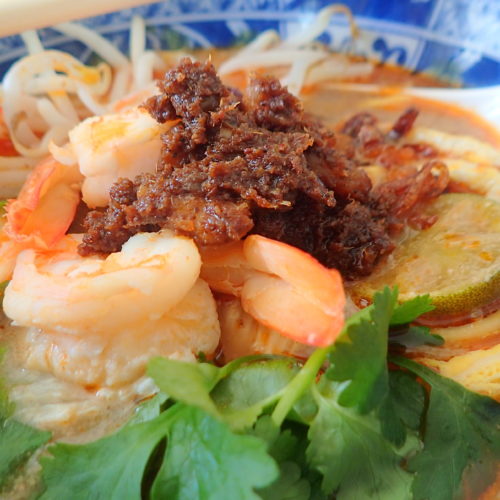 Sarawak Laksa
Ingredients
Prawn Broth
Prawns head

Oil

Salt

Keep some poached prawns for toppings
Chicken Broth
Corn fed chicken

Salt

Shred the chicken meat for toppings
Sarawak Laksa Main Broth
Sarawak Laksa paste

Combination of Chicken and Prawn Broth

Coconut milk

Evaporated milk
Sarawak Laksa sambal paste
Sieved laksa paste

Dried chillies

Belacan

Dried shrimps

Minced shallots

Sugar
Toppings and serving
Blanched rice vermicelli and yellow mee

Shredded chicken

cooked prawns

Egg omelette

Coriander

Crispy shallots (optional)

Calamansi lime
Notes
TIP – Poach the prawns separately and add the stock to the main Laksa broth.
TIP – Fry the omelette with a pinch of salt NOT soy sauce cause that makes the eggs looks dirty brown.
TIP – Blanch the beansprouts but don't overcooked (soggy)
TIP – Calamansi lime is a must. (If you can't get it normal lime will have to do but I bought mine from Malaysia and freeze in my freezer)
TIP – Let your guests top up with more or less or no coriander and sambal if they so chooses.
For the prawn broth
For the chicken broth
For the Main Sarawak Laksa broth
For the special sambal paste
Serving