This is a very easy leeks side dish. When I cook this I do not make a sauce for the steak as the leeks will be saucy enough.
This makes for a quick satisfying dish and all can be ready in under an hour as the beef steak is just pan seared in a griddle pan.
Just be a bit more careful with washing the leeks as they tends to trap and hide a lot of dirt when growing. Many a times I find myself having to wash again and again as I slice them.
p/s You should have about half of bottle of white wine left to drink after.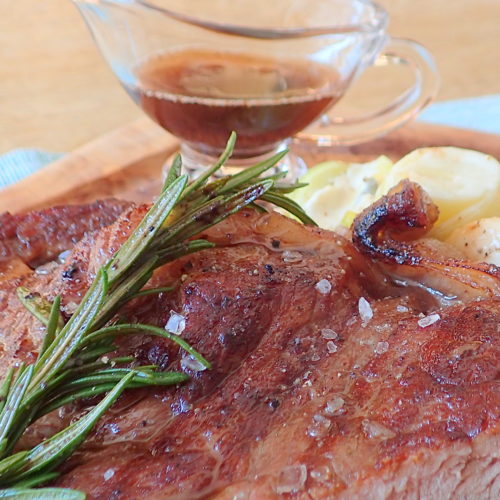 White wine creamy cheesy leeks with pan seared beef steak
Ingredients
1

bunch

Leeks

1

tbsp

Butter

1

tbsp

Mince garlic

1

tbsp

Flour

1

cup

White wine

1

cup

Double cream

Blue cheese (strong cheese)

Salt & pepper
Instructions
Melt butter in a pan and fry the garlic. Then add in the leeks and fry till the leeks are soft.

Next add in the flour and stir well before adding in the white wine and double cream.

Lastly add in the cheese and taste, season and taste.
Notes
TIP – Use any cheese you like but I prefer blue to go with steak (although I do not at blue cheese) The hubby, the boy and girl do.  TIP – Add more or less wine, cream for more sauce. It is entirely your choice.  TIP – Season AFTER you add the cheese and taste.