Recently a friend reminded me I have not make my special crispy shallots rice for a long time. Years! This is because garlic and crispy shallots rice is very moreish and extremely bad for diabetic 😀 I peeled a lorry load of shallots and made shallots crisps the other day and I just have to cook the rice to satisfy my craving.
I decided today is the day I treat myself! Tomorrow I will abstain from carbohydrates and sugar both. 😀
I ate a whole bowl of rice and really wanted more so I had another scope. Sacrilege but I can just eat the rice without and accompaniments.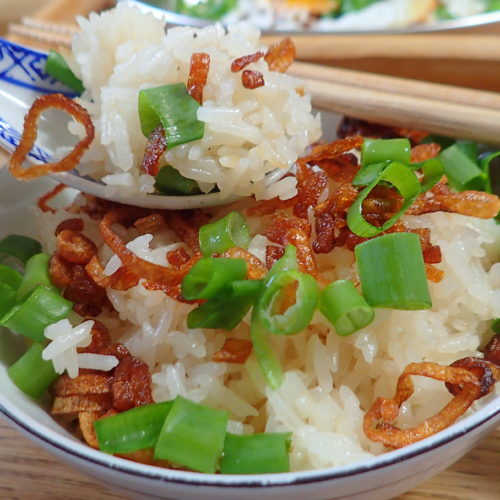 Garlic & Crispy Shallots Rice – Special
Ingredients
To boil the Rice
4

cups

New season Jasmine rice

3.5

cups

Chicken stock

2

tbsp

Shallots oil

2

tbsp

Crispy shallots

2

tbsy

Garlic granules

1

tbsp

Coarse Salt
After the rice is boiled
2

tbsp

Shallots oil

3

tbsp

Crispy shallots to serve on top of rice

2

tbsp

Chopped fresh spring onions.
Instructions
boil the rice as per normal but just mix everything in. I am using New season Jasmine rice because the rice will come out a bit like glutinous rice but just not as sticky.

After the rice is cooked just fluff with 2 extra tbsp of shallots oil, serve and top with more crispy shallots and fresh spring onions.