Black Sweet Vinegar Pork Trotter is such a traditional Chinese dish. In the olden days this dish is often cooked as a confinement food after giving birth. The Chinese believes that this dish would 'get rid of wind' and is good for ladies post natal immunity after giving birth. However it is now a very common dish enjoyed by everyone even my very British husband (the eggs for he don't eat fats).
Do you know that pork knuckles and pork trotters contains high natural collagen, perfect to ward off wrinkles? kekekekekekeke
The main ingredients to make a tremendous yummy pot of this dish are just the pork trotters or knuckles, ginger and the black sweet and sour vinegar. My hubby is a big fan of ginger but not the pig trotters or knuckles. so he will eat the eggs and drink the broth!
On the other hand the pig's trotters are so tender, moist and wonderfully succulent after simmering slowly for hours that they are my favourite. Especially after I took the trouble of dry frying the skin till they blister. In the UK, I am using normal bottle of dark sour vinegar and dark sweet vinegar mix. I found it too sweet for my taste otherwise and I have to add more sour vinegar. I just love the pungent sweet and sour black vinegar taste but I prefer more sour and I added dried chillies to make it a bit more spicy.
I have actually kept back a huge piece of ginger to age it and I bought some young new ginger too.
Each and every family will have their own way of cooking this dish and their heirloom recipe. My mother always clean, blanch, drain and dry fry the trotters first and I followed suit. I find frying till the skin blistered gives that extra taste I love. However I am missing the black beans which I can't find here.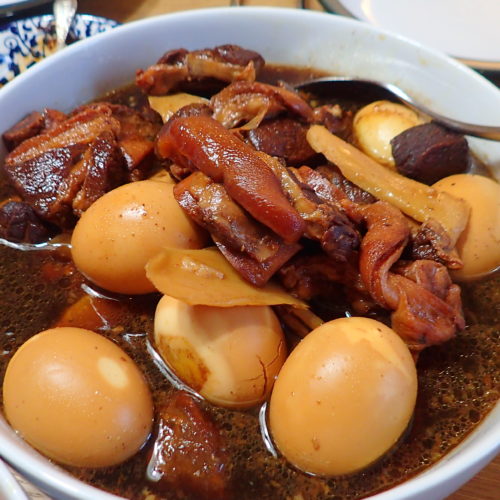 Black Sweet Vinegar Pork Trotters
Ingredients
Trotters/Knuckles

Black vinegar

Sweet black vinegar

Ginger

Dried chillies

Sesame Oil

Palm sugar

Light soy sauce.

Hard boiled eggs
Instructions
Wash and blanch the trotters in hot water. Drain the trotters and dry fry in hot wok to blister the skin.

Using 2 tbsp of sesame oil and fry your sliced ginger for a minute before adding a small lump of palm sugar.

Add in your prepared trotters and as many dried chillies as you like. give everything a good stir.

Next pour in your vinegar. I used 2 and half bottle because I cooked a large pot and I rinse out the bottles not adding much water.

Bring to boil then lower heat to a slow simmer for an hour or till the trotters are as soft as you like and add in the eggs for the last 5 minutes. Taste and adjust the seasoning with the half bottle of vinegar left. I prefer mine really sour and a tad spicy.
Notes
TIP – If you are adding hard boiled eggs just add enough for one meal. You can boil more and add in the next meal. This will stop the eggs from being overcook and overly hard. Don't crack your teeth! TIP – If you really want to be ready, I prepared the trotters a day ahead and also boiled my 8 minutes eggs a day ahead then I keep in the fridge. Easier to peel the next day. TIP – One thing I am missing is black beans. I can't seem to find the ones used for this dish in UK. I would have to remember to bring back some the next time I balik kampung.  TIP – This taste even better the next day. In the olden days during confinement time this dish is kept for a month, adding more vinegar, trotters and eggs when needed and bring it back to boil daily.