So I am into making talam at the moment. Making and doing research and I felt like I have been to mathematics class last couple of weeks and back. kekekekekeke
Luckily I have enough guinea pigs and even the British neighbours have been promoted to try though it is very far and few that you will meet any British born and bred whom will like our kuih-muih. Well except my husband! He has actually placed an order for a special kuih lapis of his designs! I accepted his challenge. I just have to figured out how to make what he wants as I have not seen this designs online 😀 So watch this space!
Today I have decided to finally pen this recipe out. If I tried some more (research) my friends and neighbours and family might kill me. I have bought 2 dozen tins of coconut milk. Go figures 😀 However when my classmate from age 13 years old informed me that I have made the best talam pandan she have ever tasted I believed this recipe is a keeper.
Now when I said I felt like I have been to Mathematics class the last week, I meant I have calculated ratios of countless talam recipes online and from my cookbooks. This is the final ratio that I settled on which I can comfortably slice without breaking because I prefer softer talam.
However I did make some in glass jars and those I add a touch more liquids and a touch more salt for the crazy hubby who (thinks he's a food critic) really like a touch more salty top to contrast with the sweet bottom (his words; not mine!) Shocking right? Coming from a white British guy – hahahahaha
Now if you have read all my musings this far I think you deserve a good tip. I actually added A DROP of alkaline water to my top layer. it works fine but do not be tempted to add more. If you want to know why, you can try it and see 😛 I did and the talam went into the bin.
TIP – Use as many pandan leaves as you can afford. Blend with water the night before. Store in a container with a cover and put in the fridge. I hate cross contamination of smell in the fridge. My everything is in either lock & lock, tupperwares or vacuumed sealed. For this recipe of 7×7 tin I used 2 packets of pandan leaves.
The next day when you are ready to make, it is entirely up to you how you use your pandan juice. You can throw the top water away and used the more condensed bottom bit or you can use all but sieve again one more time to remove residue.
TIP – If you want your pandan green to be slightly more deeper green try adding a few drop of intense blue pea flower water. Just boil blue pea right down to get a darker colour. However I am not sure I like it. I prefer a more natural pandan leaf colour. Which do you prefer?
TIP – As long as you stick to the flours and liquid ratio, do experiment. You can omit the tapioca flour and used just green bean flour and rice flour…..but you cannot do the reverse aka you cannot omit the green bean and used tapioca instead. Well I suppose it is all up to you to try 😀 Enjoy trying. I did.
p/s I am also trying to perfect the gula Melaka talam. Will update that recipe this weekend if free. It's so much easier to make as just need to melt the gula Melaka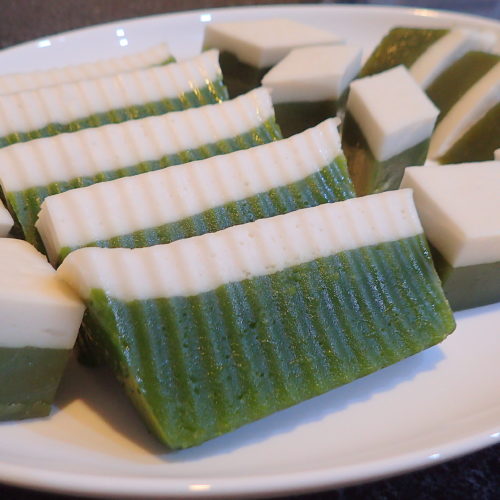 Kueh Talam – My special recipe
Ingredients
Bottom layer (Pandan layer)
35

g

Mungbean flour

80

g

White rice flour

35

g

Tapioca flour

180 or 200

g

Caster Sugar (I would suggest not lower than 180g)

1

tsp

alkaline water

30

pieces

Pandan leaves blend with water to get 750 ml juice.
Top White Coconut layer
400

ml

coconut Milk (1 tin )

100

ml

Water to rinse out the tin of coconut milk

40

g

White rice flour

30

g

Mung bean flour

10

g

Tapioca flour

1

tsp

Salt

ONE

DROP

Alkaline (lye) water
Instructions
Bottom layer (Pandan layer)
Mix everything, stir well then leave for 10 to 15 minutes. Sieve into your sauce pan.

Using a balloon whisk mix well again then switch on the heat to medium and later low. Cook stirring non stop till you get the consistency of just a touch thicker than kaya (think mayonnaise) then turn off the heat quickly. Continue stirring for another minute or so so that the mixture do not lump together in the residue heat of your pot.

Get your pan ready 7×7 inches or 8×8 inches (entirely up to you and brush it with a sunflower oil (oil must be odourless) Then wipe with kitchen roll. I use a non stick pan and it always come out nicely for me. Unless you use food and heat grade plastic please don't steam with plastic. Ewwwww.

Pour your batter into pan and steam on medium high heat for 20 minutes or until you shake your pan and it will wobble a bit but not too much and you can see it's set.
Top White Coconut layer
Mix everything together and leave it for 10 minutes. Sieve into your pan and then turn on your heat to low and cook stirring all the time again to a runny custard consistency not as firm as the bottom layer!

Keep an eye on your bottom layer and then just pour in using a spatula to cushion the pour. (Refer to pic)

Steam for another 15 minutes or so. Turn off your heat as soon as the talam is set. Continue steaming will cause the coconut top to be off white and dry.
Notes
TIP – Some people prefer a more wobbly talam. If so you can add extra 10ml liquid to each of your batter. Have fun adjusting to the consistency you prefer. 
TIP – if you REALLY REALLY like wobbly talam use a jar and you can add more liquid 😀 but you might have to eat with a spoon – kekekekekeke
NOTE – The ONE DROP alkaline to your top layer really gives you a more stable structure and won't be messy when slicing your cooled kuih.
NOTE – It is very important to wait till your talam is properly cooled before slicing. If you slice with plastic cutter then fine. If you slice with a stainless steel pour some oil onto a cloth or kitchen roll and oil and clean you knife after each slice. As you see form my pics I am all for the aesthetic  😀 
The night before – prepare the pandan juice