Kai See Hor Fun" (鸡丝河粉) or shredded chicken flat rice noodles. This is an amazingly satisfying dish and the best thing is that it is so easy to cook. Well it is easy if you do not want to have prawn oil topping. Even with prawn oil it is not that difficult. I always like to cook this if I have fresh hor fun from the noodles factory in London Chinatown. Otherwise I do not like the dry noodles. Tried once and it is just not the same.
For the prawn oil you will need to do a bit more work but I often do it when the mood is in. I will buy a couple kilos of fresh prawns and then will clean and peel, fry the heads and such to make the oil. They keep well in my cupboard for a month or in the fridge for longer perhaps but mine never lasted that long.
I always boil my water, place in my cleaned chicken and then turn the heat off and let the chicken bath happily overnight. I do not like rush cooking. The next day I will shred the chicken, keeping the legs and wings parts. I salt them, adding sesame oil and boxed into my fridge for another meal.
So to put a meal together is just a matter of rinsing the fresh hor fun in hot water and plating into bowls.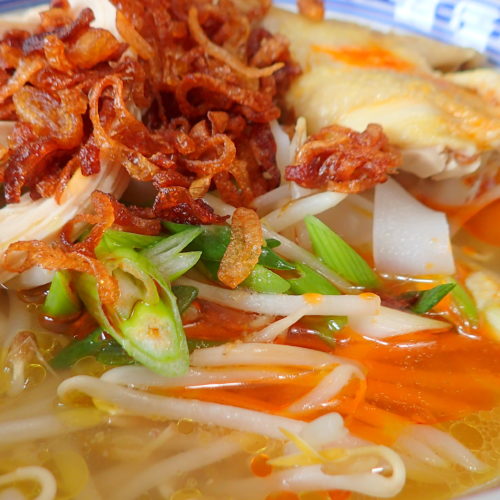 Kai See Hor Fun" (鸡丝河粉)
Ingredients
1

Corn fed chicken

Spring onions

Ginger

Salt & Pepper
Toppings
Shredded chicken

Crispy shallots

Prawn oil

Spring onions

beansprouts
Prawns oil
Oil

Fresh prawns heads

Pinch of salt
Instructions
Wash your chicken clean. Giving them a polish and massage with salt then rinse clean. Place the ginger and spring onions inside. Then place into your pot of boiling water.

Bring the pot of water back to boil then turn off the heat. Let your chicken bath till the next day. (I do mine at night) or till the water cool down.

We can't eat a whole chicken so I normally salt the legs and wings adding a touch of sesame oil for another meal.

Shred the breast meat and any other bits and pieces to top your dish.

My noodles were fresh from the factory so I need only to rinse them through hot water before plating up (bowling) in this case 😀
Prawn oil
Fry the prawns heads in oil and seasoned with salt. Use a potato masher to press the prawns heads squeezing out every bots of juice. Sieve the oil and keep in a bottle. Drizzle on top of your noodles to take it up a notch.
Notes
TIP – you can add in fish cakes, fish balls etc. Anything you like really.