As a young teenager growing up in Kuching, Sarawak my father took us out for supper few days a week. I do realized how extremely lucky my siblings and I were now.
One such supper is this Char Koay Kark . This recipe is for the plain Koay Kark aka no fresh radish grated inside, just rice flours mixture. This is the street food version. Not the ones sold in Dim Sum restaurants but it's oh so nostalgic.
This Char Koay Kar dish brings back memories of us 5 siblings, sometimes laughing, sometimes arguing at the back of my mother's Volvo 244 in racing green. Those were carefree days and our only worries were our parents not buying for us what we want!
I have extremely fond memories of this street food Char Koay Kark. There was an elderly gentleman with a makeshift stall selling it by an old iron fenced gate near the then Cathay cinema. He used to wrap them into a corn shape with newspaper on the outside and a piece of plastic inside.
If I remembered correctly the plain ones were 50 sen and the added eggs 70 sen. I can't remember there being prawns but I just wanted to add to mine today.
I have not cook this for years. Hubby reminded me the other day so I decided to cook for him. He loves the preserved sweet radish and will always request for extra! I remembered a few years back when I was first experimenting to make the rice cakes, a lot went into the rubbish bin before I settled on this combo that is not too hard, nor too soft and with just enough 'chew'
Today I have decided to write out with pics in details. If you made it please post me a pic or tag me and you would have made this post worthwhile.
TIP – Make the koay kark, rice cake at least a day ahead. After storing in the fridge it is easier to cut. Oil your knife.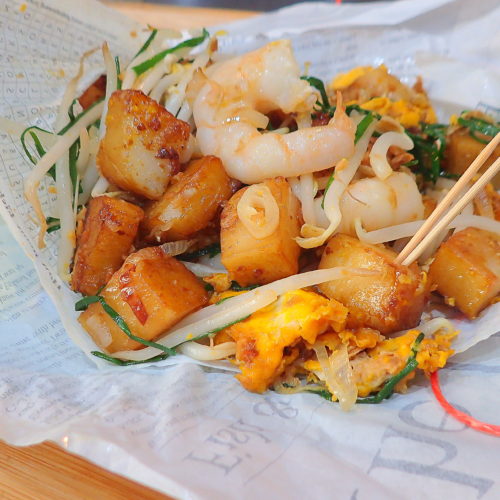 Char Koay Kark – Fried Rice Cakes/Cubes Plain
Ingredients
Kueh Kark flours mix (300g)
230

g

Rice Flour

50

g

Tapioca Flour

20

g

Wheat flour/starch

2

cups

Cold water

3

cups

Boiled hot water

2

tbsp

Flavoured oil (garlic+shallots)

1

tbsp

Salt
Frying ingredients
Pork lard (oil)

Eggs

Preserved sweet Radish (rinsed and drain)

Minced garlic

Shallots

Prawns/Pork belly (optional)

Kicap Manis

Dark soy sauce

Salt & pepper

Beansprouts

Chives

Spring onions
Instructions
Kueh Kark flours mix (300g)
This can be made a couple of days ahead and kept in your fridge. first mix the 3 flours, then add the cold water, mix well.

Add in the oil and the hot water. Give it a real good mix before steaming.

Have your pan ready with hot boiling water on your steamer. Give the mix a good mix before pouring onto your tray to steam for 40 to 45 minutes on medium heat.

It is much better to make a day ahead at least. Please refer to photos.
Frying the prepared Koay Kark.
Heat your garlic and shallots oil or pork lard. Pour your cubed rice cakes (koay kark) and fry with a dash of dark soy sauce and kicap manis, caramel or sweet soy sauce. Remove and set aside.

Scope the portion you want to fry onto your pan and add in your mince garlic and shallots. Fry for a minute before adding your preserved sweet radish.

Next add another touch of oil and fry your eggs. Move your koay kark on top of your eggs and gives everything a few turns with your spatula.

Lastly, season and add your beansprouts and chives.