Today is Shrove Tuesday. The word shrove is a form of the English word shrive, which means to obtain absolution for one's sins by way of Confession and doing penance. Thus Shrove Tuesday was named after the custom of Christians to be "shriven" before the start of Lent.
We eat pancakes on Shrove Tuesday in the UK. Shrove Tuesday is the day before Lent starts: the Tuesday before Ash Wednesday. It's a day of penitence, to clean the soul, and a day of celebration as the last chance to feast before Lent begins. Shrove Tuesday is sometimes called Pancake Day after the fried batter recipe traditionally eaten on this day.
I have decided to make Apam Balik, our Malaysian pancake. I am making the traditional fillings but please do use peanut butter, jam or anything else you preferred.
Hubby colleagues gets to be educated about Malaysian style pancakes Apam Balik.
Yeah!
Update 6th March 2019 – The children were complaining they did not get to eat any yesterday so I woke up early this morning and made another batch. Pandan apam balik. All I did was reduce half a cup of water and add in pandan juice.
Note – Photos added in.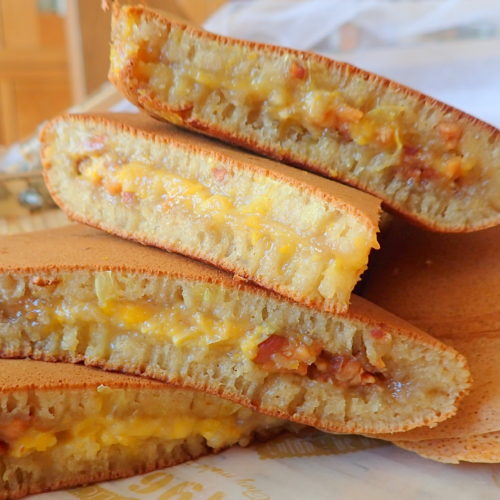 Traditional Apam Balik
Ingredients
350

g

Plain flour

3

Eggs

150

g

Castor Sugar

5

g

Yeast or 7 g sachet

5

g

Bicarbonate soda or 7 g sachet

2

cups

Lukewarm water
Instructions
DIY Cream sweetcorn
Blend normal sweetcorn with a touch of milk.
Peanuts
Toast the peanuts, remove the skin and blend but not too fine.
Cane Sugar
Use cane sugar for sprinkle
Batter
Just mix everything together and let it sit for 30 minutes or more like pancake.
Frying
Heat pan then put some butter and fry an egg to even the heat.

Wipe off all the butter before putting in the batter.

When you place the batter in, swirl the batter to coat the sides a bit as I like eating the sides. Cover for a minute or so until bubbles appear.

Sprinkle cane sugar, crushed peanuts and cream sweet corn. Cover for a couple of minute.

Remove cover and flip one side over to the other side. Cover and leave for another minute before removing from pan.

Rest few minutes if you can before cutting and eating.
Notes
TIP – I use only small heat but my pan is Anolon – Please try out your pan and adjust. TIP – Always fry an egg and remove before putting first bit of batter in to even out the heat. TIP – This batter makes 3 pans of 30cm size. TIP – Clean your pan after each use if there it has spillage.