Shepherd Pie brings back a lot of memories. This is because I have to make a potato mash for it.
Two and twenty years ago my ex boyfriend went to Malaysia to meet me. The very first Western dish I made for him is mash potatoes. He was telling me how to make it nice as he finds the ones in Malaysia, funny tasting. I still remembered he said taste like chicken? 😀
He was mashing the boiled potatoes but for some reason I can't remember why, he had to pop to the sundry shop and left me to continue. So like a true Malaysian I sat on the floor and mash the boiled potatoes adding in butter slowly, alternating with a milk, a pinch of salt, some freshly ground pepper like I was told.
When he came back from the shop I had finished and he was shocked to discovered I added in the entire 250g of butter 😀 😀 😀 Well I was not told how much to add in! I was tasting as I was adding and it tasted better and better with more butter and so I added more and more butter until the whole block was gone!
The silly things we do that now seems so funny. Nowadays I am only using half a block but I have moved from using milk to cream for that really rich taste.
Just for some extra information –
If you use lamb mince it's Shepherd Pie
If you make with mince beef and red wine it is Cottage Pie.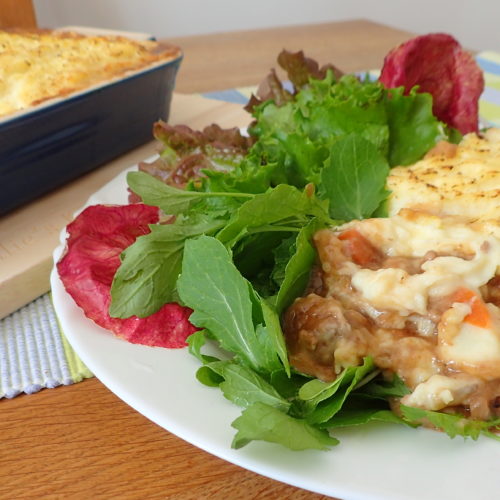 Shepherd Pie
Ingredients
Minced lamb

Garlic mince

Onions sliced

Lamb oxo cube

Plain flour

Beef stock

Carrots

Worcestershire Sauce

Salt & Pepper

Potatoes

Butter

Cream NOT milk
Instructions
Cooking the lamb
Fry the onions and garlic with a lump of butter.

Then add in the lamb mince and fry with lamb oxo cubes

When the lamb mince looks slightly brown add in 2 tbsp of flour, the carrots and beef stock.

Let this simmer for half an hour. Taste and season with salt and pepper.
Making the mash
Boil potatoes till soft then use a masher and mash adding butter and cream. Season with salt and freshly ground pepper.

Assemble by placing the lamb at bottom layer of your pan and the mashed potatoes on top. Use a fork to draw some lines. Use as much mesh or lamb as you like but half half is good.

At this point you can wrap nicely and keep in your fridge or freezer or bake at 200C for 20 – 25 minutes to brown the top before serving. if you took out from freezer, size depending then set your oven to 180C and cook for at least 40 – 45 minutes, keeping an eye to judge by the brownness on top.
Notes
TIP – Please feel free to add any other vegetables but in the olden days when money is a problem you put into it what you get from your garden that are easy to plant and a plenty aka potatoes and carrots.
TIP – You can use Milk instead of cream but I wanted a creamy mesh.
TIP – You can grate cheese on top but as I used cream to make a creamy mesh I decided to omit the cheese. Traditionally I was told there's no cheese. Cheese are for selling. 😀
Updated 28th July 2020