This is a dish that grows on me. That is to say the older I get the more I appreciate this dish. However I am fussy and I like it only if it's cook 'fresh' and not like my ex mother in law. I have not been happy with my chai buey for the past year because I could not find and buy any asam keping (tamarind slices) for a year. I was told it is because people nowadays like to use tamarind juice in container. Tamarind juice is just not right for Chai Buey. Therefore I am thankful and grateful to good friend for buying me asam keping from my hometown, Menglembu and so I decided to cook this dish today.
Chai Buey in the Hokkien dialect literally means 'leftovers vegetables' My ex mother in law was from Szechuan. She was one of those boat people that escaped China on a big sailing junk with 2 young children in tow to join her husband in Malaysia. She did told me before that she was not going to give her husband any excuse of looking for a second wife in Malaysia 😀 She went on to have 4 more children. Truly a matriarch!
She washed laundry for a living and saved every cent she earned. When she passed she owned her own double storey corner shop lot +++ I really respect and admire her. Frugal and hard working all her life. Spicy Kiam Chai buey is one of her famous dish served weekly. We employed a lot of ladies to clean birds nests as the family was in Chinese medicine like ginseng, birds nests etc. We feed all the workers with lunch. At the end of each day leftover food that's worth keeping will be kept in the fridge, usually protein. At the end of each week MIL would boil her 'master stock' for the spicy kiam chai buey, then sieve out all the bones before adding the asam keping, chillies, protein, mustard greens and others in. The then spicy kiam chai buey I never dare to eat and on that one day a week I frequent Ipoh Tuck Kee Restaurant for their ribs 😀 – memories ……..
I learned from this amazing Szechuan matriarch, that to make a good spicy kiam chai buey there are things we could not do without like dried & fresh chillies, the asam keping (tamarind pieces), tomatoes, pickled mustard and fresh mustard greens.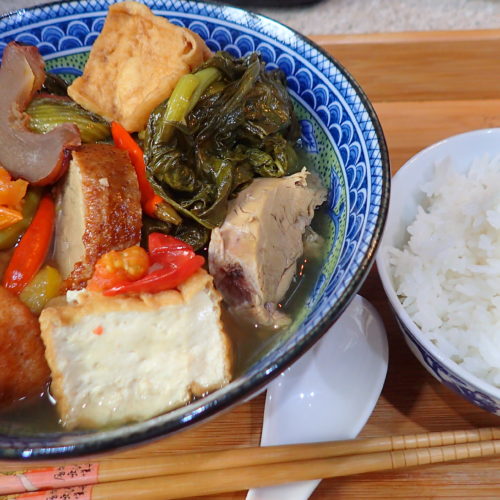 Ingredients
Dried chillies

Tamarind pieces

Tomatoes

Bird eyes chillies

Pickled mustard

Fresh mustard green

Toufu or Tau Pok

Salt; Pepper; Sugar;
Instructions
The first thing to do is to place a touch of oil and fry your onions, garlic, dried chillies plus all your bones. Add in boiled water and let it simmer covered for a good 30 minutes.

Next remove the bones and throw them away before adding your tamarind slices, duck meats, ham hog (all optional), tomatoes, pickled mustard green and the stem of fresh mustard greens. Then add in the leaves gradually and I always add in toufo.

Spicy Chai buey is a dish where there is no hard and fast rules. Add anything you like. I always make and save some extra roast pork to add in but I have given the piece I saved away to a friend so not this round. Instead I added some fried fish balls and some prawns for daughter at the last minute. Seafood should always be add just before heat off as you do want to over cooked them.

I also always add toufo, fried or otherwise. Toufo soak in all the taste of the spicy kiam chai buey and makes them extra tasty. If you get fried taufo pop even better!

Taste and season to suit your taste.
Notes
Note – Spicy Chai Buey should leave your lips and the top of your mouth tingling with the chilli heat, the side of you jaw aching with the sourness and your belly though full still want another drink of the clear broth kekekekekekeke
Both the asam keping (tamarind pieces) and the tomatoes gives the broth a different depth of sourness. She insisted must have both to make the dish. the pickled and fresh mustard greens balance each other and the same goes for the dried and fresh chillies.
In the UK, I often make spicy kiam chai buey with bones I saved from my Traditional Cantonese Crispy Roast pork belly – Siu Yuk, 脆皮烧肉 for protein I like to add in duck and sometimes I buy a ham hog to add in and it taste extra yummy. I also prefer my spicy kiam chai buey to be a tad more spicy and sour hence I add more chillies and more tamarind pieces.