Cekodok Pisang or Banana Fritters is one of Malaysia's best-love snack. It's one on my favourite.
I am almost embarrassed to post this as this is so easy to make. However I have since been persuaded that it is not everyone that can make it so here's a post on my blog.
Living in the UK, I have never found it taste quite the same as in Malaysia for we do not have that much choice of bananas here. I always leave my bananas to go to almost rotten before I use them to get as close a taste to home as possible.
However I do not make this often even though hubby loves them. He will eat this till the cows come home but he will never on his own eat a fresh banana. Go figures.
I don't make this often because bananas when ripe contains so much sugar and as a diabetic I cannot afford to use up my sugar rations.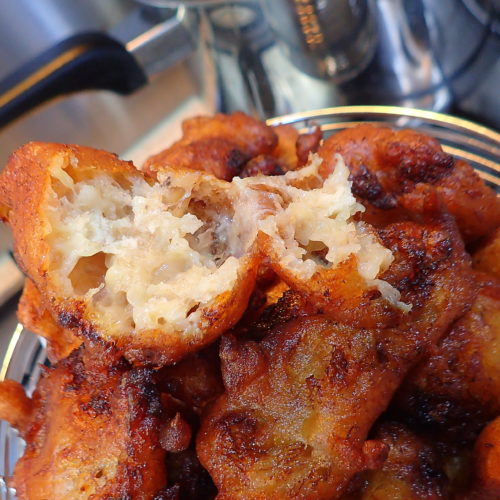 Ingredients
500 – 600

g

Very ripe bananas

200

g

Cake flour

1

tbsp

Sugar (optional)

1

tbsp

Cinnamon powder (optional)

1

tsp

Baking powder

pinch

Salt

Oil for deep frying.
Instructions
Mix everything together and use a spoon to drop into medium hot oil for frying.

TIP – Do not mesh your banana too fine. It is wonderful to bite into them with bits of bananas inside.

TIP – Adding sugar will makes them crispier but I don't use any sugar.

TIP – Adding too much cinnamon powder will make the fritters too dark and not appetising.

TIP – You can sprinkle both icing sugar and cinnamon powder after you fried them.