"I wanted to make this album for a long time and finally have a double boiler. I hope you will try and make this. This was taught to me by my ex MIL who hailed from China. She passed away nearly 3 decades ago but she taught me a lot of 康熙帝 Kāngxī Di's cooking and Chinese herbs." – 25th January 2015 (Facebook)
My original blog was lost but due to Facebook's albums I was able to retrieve some photos and this album. Today while talking to a lady I was suddenly reminded of this as I do need to partake in some goodness aka pure chicken essence with herbs, as I am still not as strong after suffering and recovering from Covid19. I need to renew my energy and boast some strength.
I decided to take out my double boiler and start working on 'healing' myself a bit. So I resurfaced these photos and redo this album in my new blog. This time my blog would never be lost as hubby has saved all in 3 different places, 3 copies – kekekekeke He had also written a program to update automatically each time I update it.
As I boil more and more 'healing soups' I will be posting new photos but for the moment these are old photos just to explain the procedures. I never post soups much even though we have herbal soups at least twice a week. I always thought people know how to boil soups. Recently I realised this is not actually true.
I do know that nowadays many people won't be boiling tonic soups or make chicken essence like this but I have always drank chicken essence this way. I would never drink the jars stuff as when comparing the taste, the jar stuff tasted like chicken stock with ajinomoto. To me they are only suitable for seasoning a dish.
A lot of tonic stuff nowadays come in packets and you only need to steep them with hot water. Again that's fine but they are not the Real McCoy.
This IS The Real McCoy.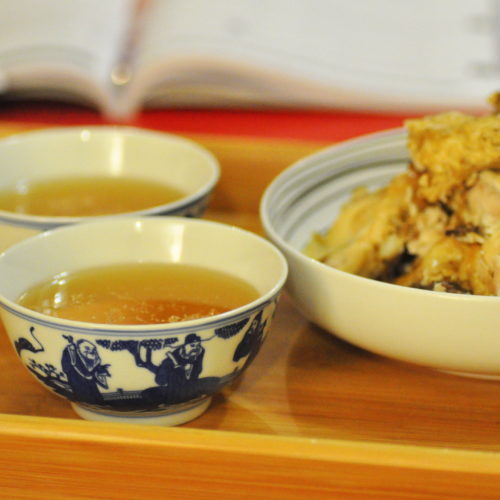 Chicken Essence – The Real McCoy
Equipment
A double boiler

A bowl to fit perfectly

Chopping board

Good cleaver
Ingredients
1

Chicken

Pao shen (泡参) is what I am using today

Love for the consumer kekekekeke
Notes
Note – You can use any other Chinese herbs