Beef Stroganoff is originally a Russian dish of sautéed pieces of beef served in a sauce made with sour cream. From its origins in mid-19th-century Russia, it has become a very popular dish around the world, with considerable variation from the original recipe.
It is a very easy dish to cook and pleasantly nice to eat especially if you add a more liberal dash of brandy. I have not made it for a long time but recently I am so lazy I just want to cook dishes that takes less than an hour from start to finishing cleaning my kitchen.
Hubby loved it and had 2 bowls for his lunch! That mean I passed. He can have 2 bowls but no more bread.
Remember you can add more mushrooms, onions etc. When I could I love to add whole small onions. it is entirely up to you. As there is so many variation of this dish make it your own by cooking it to suit yourself.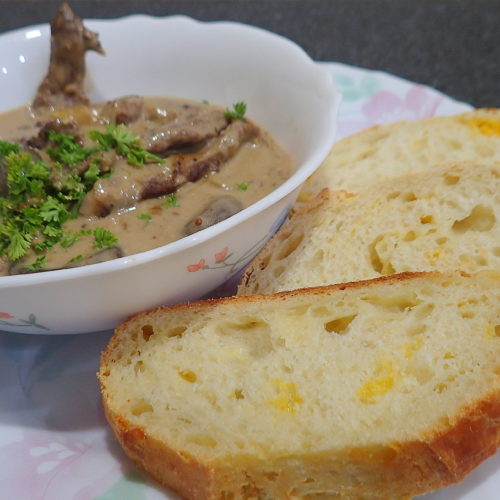 Beef Stroganoff
Ingredients
1

kg

beef (I used ribeye, because I could and because I preferred it)

1

tbsp

Butter

2

large

Onions

half

bulb

Garlic

200 to 300

g

Chestnuts Mushrooms

2

tbsp

Dijon whole grains mustard

Beef stock

2

tbsp

Sour cream

1 – 2

tbsp

Brandy

Parsley

Freshly ground salt & Pepper
Instructions
Preparing the beef
Slice your beef and then seasoned with salt & pepper.

Heat some oil till hot and pan fry your beef strips quickly. Remove and set aside.
Preparing the Sauce
Heat your pot and melt the butter.

Add in the onions, Djion mustard (I prefer wholegrains) and mushrooms until soft.

Add in your beef stock and bring to boil.

I add in my brandy now or you could flambé the beef earlier on when you were frying them. However I like to taste just a bit of the brandy.

Finally add in the beef and season. Bring to boil and serve.

Serve with rice, bread, pasta or couscous and if you are on a diet with mix salads.
Notes
Note – if you want a richer sauce, you can add extra sour cream or crème fraiche or a big dollop of double cream for that 'creamy' yumminess.