I bought a huge English crab from Devon and I used the boiling method to dispatch it to crab heaven and then painstakingly picked all the meat.
One of the dish I made from some of the meat is potted crab. This is extremely easy to make and taste good if you are a fan of crab. I made it the same way as potted shrimps just using crab.
However do not try to make this from tin crab as it won't taste as good. The fresh crab taste very sweet and juicy! I had a hard job trying not to eat it all when I was picking it.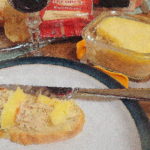 Print Recipe
Potted Crab with a hint of lemon
Ingredients
Crab meat

Lemon peel and juice

Mayonnaise

Chives

Butter

Paprika

Salt & Pepper
Instructions
TIP – Instead of Mayonnaise and chives I used the Philadelphia cheese cream and chives.
Eating with baguette
Eating with cheese bloomer
Gently on low heat, melt the butter

My beautiful crab meat

The crab meat

Season and mix with mayonnaise, paprika, salt, pepper

I seasoned my butter with lemon thyme

Sieve the butter, we only want the top bit – that's clarified butter.

grate some lemon zest in

add half the clarified butter

Place the crab meat in the bottom then pour the rest of the butter on top

Cover and place in the fridge. Store up to a week or two. I decorate the top with a thin slice of lemon.
Eating with crackers