Both the husband and I love this Kuih Seri Muka. There is just something about glutinous rice, be it cooked sweet or savoury, something special. It is heart warming and comforting to me and I am just lucky the British hubby loves it too. 
Kuih Seri Muka is one of our favourite. I have been thinking of making this for months. Much appreciation to my Facebook friend who makes this to sell for the invaluable tips she gave me. I have found the perfect combination in my opinion to the kaya layer that actually has a layer of dry 'skin' just like the traditional ones I have had eaten as a child growing up from the morning markets in Malaysia.
I wanted to make this Seri Muka mine, a la Julie style and so I have to crank my brain. Luckily I love sitting and contemplating cooking, baking, plating up and anything to do with food. I decided to add black glutinous rice cause I wanted the colour to seep into the white glutinous rice to colour it pink a bit. However this time I think I have rinsed the black glutinous rice too much and the colour is not too pink. I will make again and update another picture as soon as I buy more glutinous rice this weekend. Hubby much prefer this to my Mango Sticky Rice recipe.
Hubby happily agreed as he polished a quarter of this kuih for his lunch today.
Update – 3rd March 20202
First TIP – Today I was in a push for time as I am making for a friend's son. to be pack and hand carry to his University up North.
So this morning I quickly washed and soaked the white glutinous rice.
Then I rinsed the black glutinous rice and quickly bring them to boil, simmering for 30 minutes till al dente. Then I put it in the garden to cool down as weather here is still cold. I did not rinse them more because I want to retain more colour to make my white glutinous rice more PINK 😀
Second TIP – I mixed the soaked white glutinous rice with the coconut milk before putting them to steam on top of banana leaves for 15 minutes, then fluff, add in the black glutinous rice, press and then steam again for 15 minutes while I cook the top layer slowly.
Third TIP – I find that mixing the top layer batter earlier and let it sit (beat it with a whisk when you can) actually makes a smoother top.
Also updated some pics to explain new TIPs
Updated – 22nd September 2020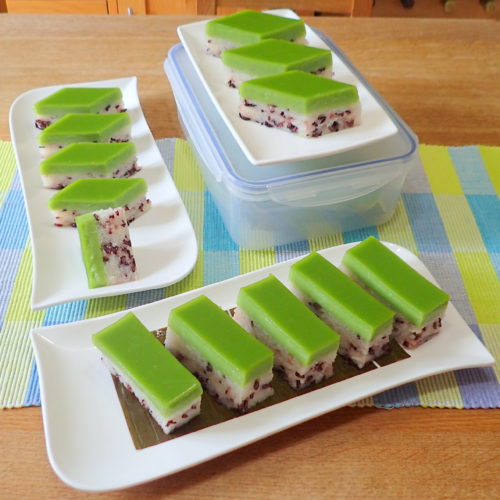 Kuih Seri Muka – Special
Ingredients
Bottom Layer
50

g

Black glutinous rice

400

g

White glutinous rice

5

strands Pandan leaves

1

Banana leave to fit pan 9″ X 9″

Salt

1

tin 400 ml coconut milk
Top Layer
50

g

Wheat Flour

50

g

Potato Starch

20

g

Custard Flour

200

g

Castor Sugar

3

Eggs

1

tin 400 ml coconut milk

60

ml

Pandan juice from the 15 strands pandan leaves
Instructions
Pre-preperation
Prepare the black glutinous rice (The night before)

Wash and rinse your black glutinous rice a few times and then place into a cup or bowl and filled with just boiled hot water to soak. Cover and let it soak for an hour.

Remove and drain the rice with a sieve. Place into a small pan and add 2 cups of just boiled hot water again with a pinch of salt and boil on low heat simmering for 25 to 30 minutes till the black glutinous rice is soft and tender.

Keep in a container ready to use in the fridge overnight.

Prepare the White glutinous rice (The night before)

Just rinse the rice once then soak in cold water overnight in a covered jug.
Steaming – Bottom Layer (On the day)
Drained the white glutinous rice and add a tin 400ml of coconut milk to them and a generous pinch of salt. Snip 5 of your pandan leaves and just place on top of your rice and steam for 20 minutes. (Medium heat)

After 20 minutes you will see the colour of the pandan leaves have changed to a 'cooked' look. Remove the leaves and fluff the rice. It is at this point that you add in the black glutinous rice. Mix it a bit.

Transfer your glutinous rice to another prepared dish 9″ x 9″ which I lined with a banana leave. I just love the extra flavour. You do not have to do this if you can't.

Press the rice down, Use a kek lapis press or failing to have that handy use a potato masher. I use the back of the first tin.

Steam again for another 10 minutes on low heat.
Steaming – Top Layer
While the glutinous rice is steaming make your top layer. Start by snipping the rest of the pandan leaves and add in 80 ml water to get 60 ml juice.

Mix the 3 flours, sugar, eggs, coconut milk and pandan juice together. Use a whisk and whisk a bit till sugar all dissolve.

Sieve the mixture and then on low heat cook it stirring all the time. When mixture coats the back of a spoon it is ready to be poured on top of the prepared glutinous rice.

Steam for 30 minutes on low medium low heat. As advised by my friend, for the first 15 minutes remove the lid and wipe off the condensation every now and again. Do not walk away. BUT I stayed the entire 30 minutes and wipe away. Then I removed the lid and turned off the heat and let it dry off for a few hours before slicing.
Notes
TIP – From my friend – Smooth top. Steam with low to medium heat and wipe the lid as often as possible Wipe and put back the lid as often as possible for the first 15 minutes. Thereafter every 5 mins. Use low to medium heat NOT high. High heat will create wave pattern on the top. Too low heat will cause the centre of the topping not to cook properly. After 30 mins open the steamer. Let it open. Turn off the fire when the surface already dry. Let it cool off for about 2-3 hours then slice…