It has been a very long time since I last wrote on my blog. Today I decided it is time I start again after being unwell.
I chose to post this old Nonya kuih – Bingka Beras. This seem to be a forgotten Nonya Kuih which I love with all my heart. As a young child I remember wanting this always whenever I was taken to the morning market where the hawker sold this. I just love the aroma of the coconut with the slightly burnt bits on top! The coconut sweetness, the banana leaves smell, the slightly caramelized top and sometimes the taste of a bit of bitter burns is FABULOUS. I just <3 <3 <3 this "fei chui yuk" aka fat pork belly, in Cantonese because they resemble a piece of fat pork.
Luckily my husband, though British born and bred loves all kuih-muih. Makes life a lot easier for me. I can make a kuih and he'll eat it all day long and I don't need to cook anything else.
This kuih is so easy to make so I hope those who have rice flour handy will try it out. Especially more so now we are still staying at home. This lockdown due to Covid19 have seen such a lot more baker, home chefs, gardeners, hairdresser, dressmakers as well as teachers 😀 😀 😀 and many other skills. Amazing what we can do when we have to.
TIP – Melt some butter and mix with the reserved 1 tbsp coconut milk. Brush on top of the kuih for that extra ummmph before you grill. kekekekeke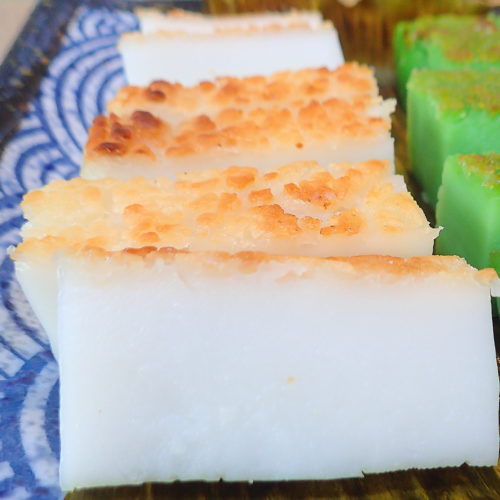 Kuih Bengka Beras (肥豬肉)
Ingredients
200

g

Rice flour

60

g

Mung Bean flour

20

g

Tapioca flour

180

g

Sugar

1

pinch

Salt

700

ml

Coconut Milk (reserved 1 tbsp)

600

ml

Water

5

pcs

Pandan leave (crushed it to release more flavour)

Banana leave
Instructions
Grease a 20cm square tray with banana leave and oil

Mix all ingredients together till sugar dissolved. Then use a sieve and strain.

In a heavy saucepan cook the mixture until it coats the back of your spoon like thick custard.

Discard the pandan leave and pour the mixture into your prepared tin and bake in oven for 40 minutes.

Place under your grill to brown for 10 minutes AFTER brushing with melted butter and reserved 1 tbsp thick coconut milk