When I lost my old blog this dish is one that I missed the most. I promised myself I must put this recipe back onto my blog but I have been a bit lazy due to the Chinese new Year celebrations.
This is also the dish that made my very British husband fell totally in love with spinach and I often only need to serve him this one dish and plain boiled rice. He often tell me don't cook other dishes if I cook this one. Funny mat Salleh!
Recently I was chatting with a friend and she requested this recipe of mine so I cooked it the other day and took some pics.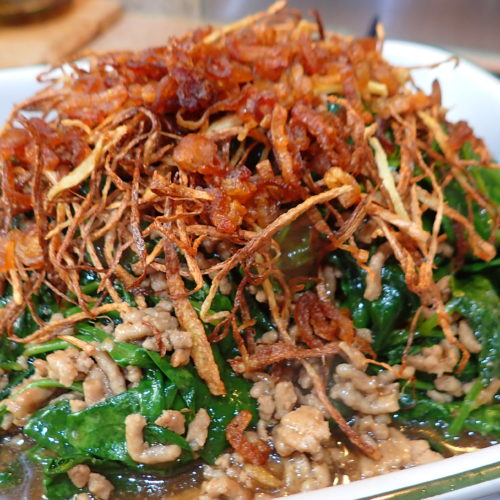 Boozy Adult Spinach – Special
Ingredients
Baby Spinach

2

tbsp

Oil (shallot oil)

3

tbsp

Julienne Ginger fry till crispy set aside

1

tbsp

Garlic

600

g

Minced Pork

2

tbsp

Oyster sauce

1

tbsp

Light soy sauce

Salt & Pepper

2

cups

Sherry

Cornstarch + water

1

tsp

Sesame oil

handful

Crispy Shallots
Instructions
Fry the Julienne Ginger with the shallot oil till crispy. Remove and set aside.

In the same oil fry the garlic, shallots and followed by the minced pork well.

Season with salt & pepper, oyster sauce and soy sauce.

I used half a bottle of sweet sherry but 2 cup will do. (Optional)

Thicken the sauce by adding your cornstarch+ water slurry

Lastly add in your spinach and turn heat off.

Add in another drizzle of sherry and sesame oil just before dishing.

Topped with your fried julienne ginger and crispy shallots.