KamPua Mee, Mee Pok, Kolok Mee, Hakka Mee, Kon Loh Mee, Mi Kolok, by any other names, in any other dialects are all basically dry flavoured noodles.
There is something about dried flavoured noodles that is so comforting to an Asian and especially to one who grew up in Kuching, Sarawak you just find it difficult not to have a deep desire to eat it when you are feeling a bit under the weather.
When I was working this is my weekend work. Making the 'readies' shallots crisps and oil, garlic oil, ginger crisps and oil, char sui for the freezer etc etc. In my house I always have ready mince even though I am not working now. Hubby will get very excited when he sees me frying this mince pork.
I remembered when we first moved from Kuching to Ipoh, Gunung Rapat area, there was a new Kedai Kopi with a stall serving Kon Loh Mee (Cantonese for dry noodles). The noodles were rather plain and wanting. My mother made friend with the lady seller and told her how in Kuching the Kolok Mee stall we frequent always have nicely flavoured minced pork toppings. That was the start of a great relationships! Mother then started to explain to her how she should have flavoured oil and flavoured minced pork.
The next time we ate there again, there were well fried and flavoured minced pork dotting here and there on the bowls of noodles and business for the lady improved! My mother was happy and I have always remembered this incident. Not sure why.
I can still remember the Kedai Kopi in my mind's eye as it was next door to my Uncle's the then Sundry Shop. Hmmm……a case of with age comes reminiscences? 😀 Certainly a sign of old age.
These noodles were from my old classmate. I must be not too bad a person to have good friends from school days who still loves me <3 At first I was rather sceptical about these dry noodles. I was thinking, nah they will never taste as good as the real ones ……. BUT I stand corrected! These were good! The dried KamPua Mee taste different to other dried noodles! I must get my hands on more! The hubby said they have a special springy bounce and I agrees wholeheartedly.
Sometime the hubby will just ask for kolok mee kosong. That means nothing added just the noodles, oils and mince! In his opinion simple is the best!
Updated 23rd September 2020. Added a few more pics and simple explanation of just making Kon Lo (dry noodles) kosong (with just mince pork, sauces and flavoured oils)
TIP – Fried mince pork can be kept outside (room temperature in a clean receptacle in UK) use a clean spoon when taking out for a week or if you have fridge space just put in your fridge. If you store in fridge please micro your prepared bowl before adding noodles to mix.
TIP – If you have any leftover by the end of the week you can fry rice with them, put on top of steamed toufo, fry mince with potatoes and many more.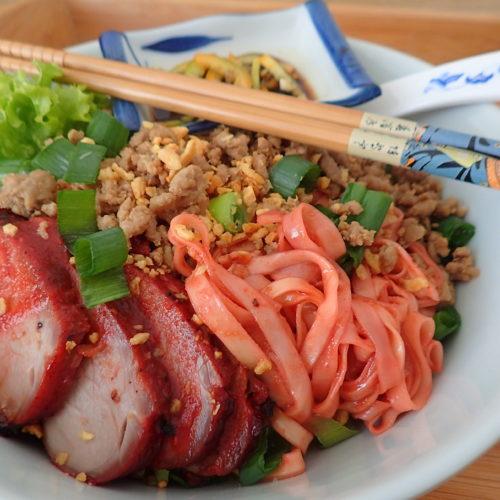 KamPua Mee & Kolok Mee Pok
Ingredients
The Ingredients
Garlic flavoured oil

Shallots flavoured oil

Sesame oil

Prepared char sui (Chinese BBQ pork)

Prepared flavoured minced pork

Fresh spring onions

Fresh chillies

Crispy Shallots and garlic

Soy sauce

Oyster sauce

Choy Sam or Bak Choy blanched
Flavoured Minced Pork
1

kg

Minced pork with a bit of fat

2

cup

Oil – Garlic and shallot oil from your fried garlic and shallots.

2

tbsp

Dark soy sauce

Pinch

Salt and Pepper

Pinch

Sugar
Instructions
Place the oil and heat up. Fry the pork mince well until all separated, medium heat. Season with salt & pepper and a dash of dark soy sauce. Takes a little while and care but the taste is so good.

I marinated my char sui the night before and just into oven for 30 minutes then used my blow torch to 'beautify' them. I substitute the rice wine in my char sui recipe with red wine lees which I have some in my fridge to gives it the nice colour red. (will update my char sui recipe soon)

For the Red Mi Kolok (Kolok mee) liberally dose it with char sui sauce.

I always cook my noodles first in boiling water then in cold water and then rinse in boiled water again to warm up. Drain before mixing in the oils and sauces.

This is normally served with a side of Chinese greens like choy sam or bak choy but I have a garden full of lettuce 😛