On my last trip back to Devon, where I lived for close to a decade originally, a long time close friend gave me 2 huge lump of beef. A beef rump which I have portioned into steaks, cooked SousVide and a topside which I have been pondering what to cook with it. I have now decided it is going to be beef floss. Then I will surprise my friend by packing some and posting back to my friend so she can try and fill her breads with them as she is a very good baker, training and baking almost daily for the last few years!
Serunding daging – I will cook mine to how I like to taste. When we were young and the parents used to buy these in Malaysia I always tried to search hard for the nice strands and not the fine like 'dust' floss. They are more crispy and taste much nicer. I like to 'chew' food. Period. I love soft bones ribs and I will eat it all. I even chew 90% of a skate wing cartilage and enjoy them – kekekekeke
As I am cooking just over 3kg of beef I decided to do this in 2 days.
So the day before I cut my beef into smaller chunks and put them to boil in seasoned water till tender. Took me just over 3 hours. I let them cool before shredding them by hand while watching television. Stored them in containers till the next day.
The next day I peeled the stuff and blend the paste and started the frying process.
I like to boil my beef in seasoned water, not plain. I find this adds to the taste. Of course it is entirely up to you.
I also prefer to watch television and hand shred my beef. I do not want to use gadgets or pond them. Again it is entirely up to your choice. As for me I find the stages of cooking therapeutic.
TIP – If you want crispy Serunding daging be sure to add some oil at the end, to fry them a bit. Yummmmmmm…..crispy bits. Please refer to pics.
As in all my recipes please feel free to add or minus any of the ingredients to suits your taste. Tomorrow I will serve this in an innovative way (I hope) I just told a friend I have this idea knocking about and I am dangerous when I have an idea. I need guinea pigs – kekekekeke
Enjoy.
p/s I was just told this minute that this is very expensive to buy. Actually it is not hard to make. They longest time is the frying. However after the sauce have been all absorbed you can transfer to a paella pan to fry dry quicker. (I am just stubborn though I have good? ideas)
Insert a moan/complain (kekekeke) – The hub said it is all his because I do not eat pulled meat. What he said is true. I will never touch pulled meat of any kind that I am not able to SEE the chunk it has been pulled from! However this is different as I not only cooked it but I actually know the famer whose cow this belonged to.
Update – After packing I found 3kg of beef just gave me 2kg plus after cooking.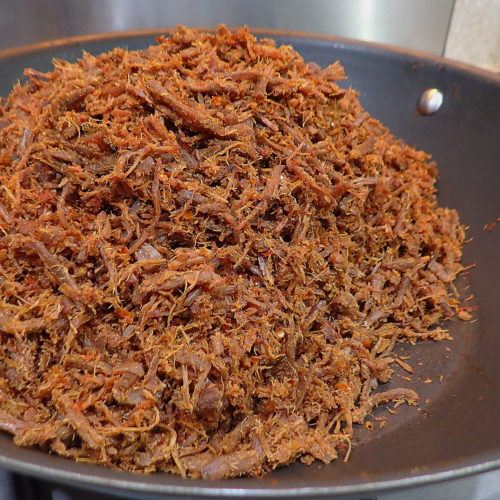 Serunding Daging (Spiced Beef Floss)
Ingredients
Part 1
3

kg

Beef (Topside is good)

5 – 6

nos

Dried chillies

2 – 3

stalks

Lemon grass

1

tbsp

Coriander seeds toasted and minced

1

tbsp

Cumin seeds toasted and minced

Water enough to cover beef
Part 2 – Spice Paste to blend together
100

g

Coriander seeds toasted and minced

100

g

Cumin seeds toasted and minced

250 – 300

g

Jaggery

1

bowl

Dried chillies paste (adjust to taste)

1

bulb

Garlic cloves

1

thumb size

Galangal

3 – 4

stalks

Lemon grass minced the bottom white parts

1

bowl

Shallots

1

tbsp

Turmeric

2 – 3

cups

Beef stock from Part 1

3

tins

Coconut milk

5 – 6

pieces

Tamarind pieces (asam keping)

Salt & Pepper to taste
Instructions
Protein – Beef
Portioned the beef into chunks and put to boil with the seasoned water till beef are tender enough to shred. This depends on the size of your cuts. I cut mine slightly bigger chunks because I want the strands so it took me just under 4 hours for Beef Topside.

TIP – Cut your beef following the grains so you have nice strand.

When the beef are cooled enough and ready to be shredded do it while watching television. I hand shredded mine very patiently (some people said I am an impatient person! Ha! in your face)

Store into containers ready for frying.
The Cooking (Next day)
Peel all the ingredients and place all Spice Paste to blend with the beef stock NOT the coconut milk.

Add in a a cup of your beef stock to help blend.

Heat your wok and add in the spice paste with a little oil and fry till pecah minyak. (till the oils separates) Don't forget to add your asam keping (tamarind pieces)

Into the paste goes your coconut milk and then bring to boil before you taste and season with sugar (I used jaggery but you can use brown sugar or palm sugar) and salt. It is very important not to forget salt. It just brings out the taste.

When ready to your taste, bring to simmering and now it is time to add in your shredded beef and just fry and fry and fry! Do not move away for the next (4 hours + for me) 😀

Fry to as dry or as wet as you like.

TIP – when you are happy, turn up the heat and drizzle some oil all round the pan. Leave for a minute then turn heat off. This will give you some 'crispy' bit. Fry and then leave to cool before packing.
Part 1 – This was done the night before and I just hand shred the beef while watching QI reruns.
Part 2 – The Cooking