The weather has been pants this last week. I have just taken into the house my baby okra plants as it has been quite cold and they are still not quite strong enough yet. It has been drizzling on and off the whole week but today is the worst! All day drizzling with the temperature just 13°C!
So today is a great day to have something with wine and ginger. My friend gave me a jar of home brewed glutinous rice wine. Today is the perfect day to use it up! I have a corn fed chicken and I am going to cook half of it.
Harvested some gigantic spring onions to add to my pot of yum.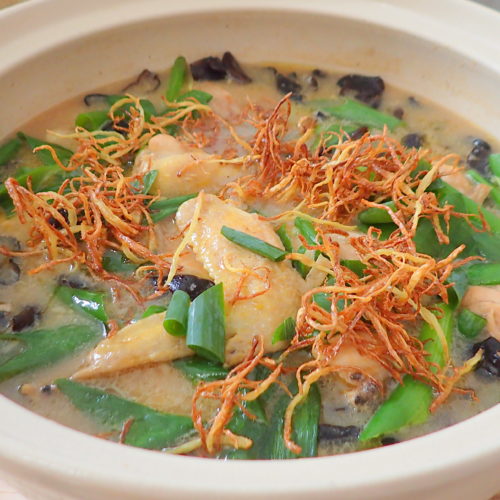 Glutinous rice moonshine chicken
Ingredients
3

tbsp

Peanut Oil

1

bowl

Julienned ginger

2

tbsp

Sesame Oil

Half

Corn fed chicken

1

bowl

Soaked cloud ears

2 to 3

tbsp

rose wine

Soy sauce if needed

5

Eggs

1-2

cup

Rice wine or sherry
Instructions
Marinate chicken pieces with some of the wine, soy sauce and ginger juice.

Fry the julienned ginger with the peanut oil then remove the oil and crispy ginger and set aside.

Add in the marinated chicken pieces and fry the skin side till slightly brown.

Add in the cloud ears and wine. Bring to boil.

Taste, season and add in your 2 tablespoon of rose wine.

While the chicken is simmering it's time to fry your gingered pancakes.

Serve by adding a generous handful of chopped spring onions and top with your crispy ginger to your pot of chicken wine.