Once in a while I have a hankering to boil this soup. It brings me down memory lane when my father would take us to this restaurant in the middle of Pandungan Roak, Kuching, Sarawak.
No matter what dishes the parents ordered, there will always be this soup. I guess it is because we, the children love it so much and easier to add to rice and eat as children like soupy rice.
I have been meaning to cook this and i have bought some sweetcorn before I sliced a chunk off my right thumb so I have to wait until now to satisfied my craving and to blog this.
Drinking this, memories of my early teens comes back in flood. My years growing up in Kuching were some of the best times of my life.
A good soup with a balance of sweetness from the fresh sweetcorn kennels and the tasty pork balls with cuttlefish, the fresh ground Sarawak pepper …… happy belly.
I hope those who have not tired before might try this for it's good and quite tasty.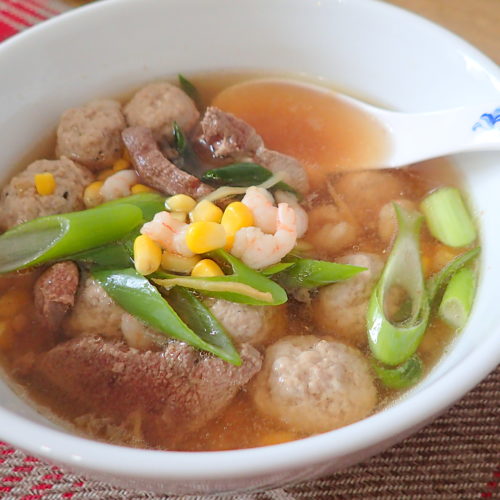 Sweetcorn kennels, special meat balls and liver soup
Ingredients
Special meat balls – mince and mix all ingredients
500

gm

Minced pork

1

Dried cuttlefish

1

tbsp

Sesame oil

1

tbsp

corn starch

1

tbsp

Soy sauce
Other ingredients
1

tbsp

Garlic, ginger and shallots oil

3

litre

Anchovies/Chicken stock

1

bowl

Sweetcorn kennels

1

bowl

Prawns

200

g

Pork liver

Season with salt and freshly ground Sarawak pepper

Spring onions
Instructions
First thing to do is to make the stock.

Fry ginger, shallots and garlic with a bit of oils if you do not have ready oils before you add in the prepared stock. (You can just use water if you have none)

When the stock comes to a boil, add in your minced meat by rolling them into balls.

The meat balls will rise to the top when they are cooked. Add into your pot the fresh sweetcorn kennels.

Cover and simmer on low heat for about 30 minutes till the stock taste sweetly of sweetcorn.

Just before turning the heat off add in your washed, sliced and readied liver.

Turned off the heat straight away. Season to taste.

Add in a generous amount of spring onions just before serving.