A crêpe or crepe is a type of very thin pancake. Crêpes are usually of two types: sweet crêpes and savoury galettes. Crêpes are served with a variety of fillings, from the simplest with only sugar to flambéed crêpes Suzette or elaborate savoury galettes.
My hubby actually prefers them with lashing of butter and just a squeeze of fresh lemon juice. However he wouldn't say no to eating them with a scope of vanilla ice cream. He also likes them with lashing of salted butter and maple syrup aka like caramel.
My mother in law sprinkle a bit of sugar on hers with a squeeze of fresh lemon juice.
My son love his with maple syrup and crispy bacon. This way is actually very good! There's something amazing when the crispy salty bacon marries the sweet maple syrup.
Crêpes Suzette is not the only way to eat them. make your own way. I like mine with fresh fruits especially pineapple or mangoes with fresh cream!
I made a load of crêpes because I was given a box of 24 pints of semi skimmed milk and I don't want to waste any. After making they can be wrapped nicely and keep for a week or so in the fridge.
I would love to make a Mille Crêpe Cake with traditional Pastry Crème Filling but being in lock-down due to this deadly virus I rather not go to the shops. Stay home, stay safe.
"Its surface is the softest canary yellow evenly dimpled with pale gold. Its edges are as frilly as old French lace. It is so delicate you can barely pick it up. This is the perfect crepe" – Nigel Slater (one of my more favourite chef)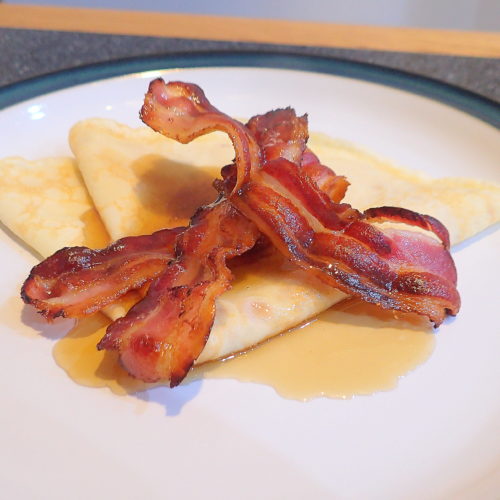 Crêpe
Ingredients
100

g

Cake flour or plain flour

2

large

Eggs

300

ml

Semi-skimmed milk

2

tbsp

Butter melted

1

Salt (large pinch)
Instructions
Mix everything well and let batter sit for an hour.

Just before using give batter a good mix and sieve them.

Butter your pan and then wipe it clean. You do need to add bits of butter now and again. Use a good non stick pan. You do not necessary need to buy a special pan. Happy trying.