When I lived in Bercham Ipoh, there was a man who came sometimes to the market and he sells all manner of fried Chinese dough aka Chinese doughnuts but this is my favourite – Kap Chong.
My husband was very happy with this and said no need to cook lunch, he can have these for breakfast as well as lunch.
Luckily I can still make these because have not made them for like 10 years since I moved down from Devon to London's as Chinatown is just half an hour train ride away.
I prefer my sticky rice to be "can see each grains" type. I fermented the dough overnight.
The second batch I made I used ley water and I have to say I did not like the taste! So I adjusted to my taste with amonia powder and after the 4th time (discounting the 2 times that went into the rubbish bin) I am happy to post this recipe. I have certainly made a little dent into the bread flours I bought before lockdown – kekekekekeke
I actually made Kap Chong with Chinese 5 spice and Kap Chong with fermented red beancurd because I forgot which taste I prefered more.
However the hubby and I found out that we much prefer the Chinese 5 spice taste more.
Why making these at home? Well you can adjust the amount of Chinese 5 spice to suit your taste, the amount of sugar, salt and dough. My husband requested for more glutinous rice and I can adjust that too. The taste is entirely up to you.
The next batch I make I will freeze half to see how well they freeze. I know dough when proofed can be frozen but I just do not like to handle them when defrosted. I will update when I have done so. I have already decided to freeze them individually with grease paper separation but at the moment I do not have freezer space spare.
It will be nice to be able to just put some to defrost overnight in the fridge and fry the next morning for breakfast.
My next project as I have kilos of glutinous rice left – kekekekekeeke (blame lockdown)!
TIP – I made the rice baton the night before.
TIP – I let my dough ferment overnight too.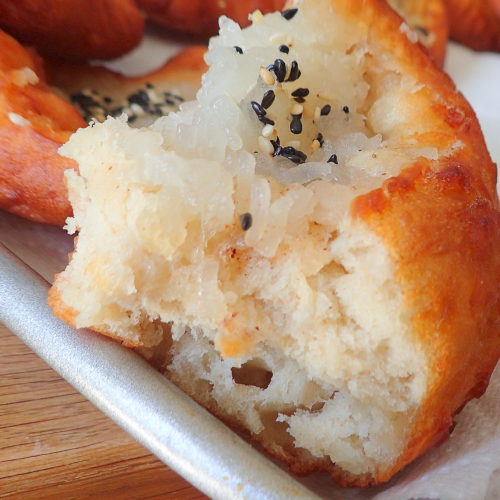 Fried Chinese doughnut with glutinous rice – (Kap Chong)
Ingredients
Glutinous Rice
200

g

Glutinous rice

3

tbsp

Sugar

1

tsp

Salt

1

tsp

Chinese 5 spice powder
Starter Dough
200

g

Self raising flour

1

tbsp

Sugar

7

g

Yeast

200

ml

Water (tepid)
Dough
250

g

Bread flour

1

tsp

Double action Baking Powder

1

tsp

Baking Soda

70

g

Sugar

1

tbsp

Oil

100-120

ml

Water

2

tsp

Salt

half

tsp

amonia powde
Extras
Sesame seeds

Water + brush

Bread flour for dusting

Oil for frying
Instructions
Glutinous Rice baton
After washing and soaking the rice for 2-3 hours steam with half cup of water for 25 to 30 minutes.

Once steamed add in the sugar and salt and 5 spice powder. Mix well and use cling film to roll into a baton. make sure your cling film is suitable for hot food.
Starter dough
Mix all the starter dough ingredients and let it rest for a good hour to 2 hours
Final dough
Add the rest of the dough mixture in and mix well. Let the dough rest for a good 6 to 8 hours before assembly. I let mine rest overnight.

Flour your worktop well and scrap your dough onto the flour as dough is a bit sticky. pat it our to a rectangular shape to match your rice baton. Please refer to pics.

Try shaping your kap chong into a reasonable round circle. Please refer to pic for tips.

to stick the sesame seeds just lightly brush the middle glutinous rice with some water and press. Please refer to pic.

Fry in oil. When you place it into oil they will sink and in less than a minute it will float up. Then wait a minute and flip over. Continue flipping a couple of times (checking) and it will be done. It's like fry doughnut. This is after all Chinese doughnuts 😀

Happy trying. Does take a good few tries to get the hang of it and once you do so it's easy. Took me a few tries but at the 4th and 5th time it's easier 😀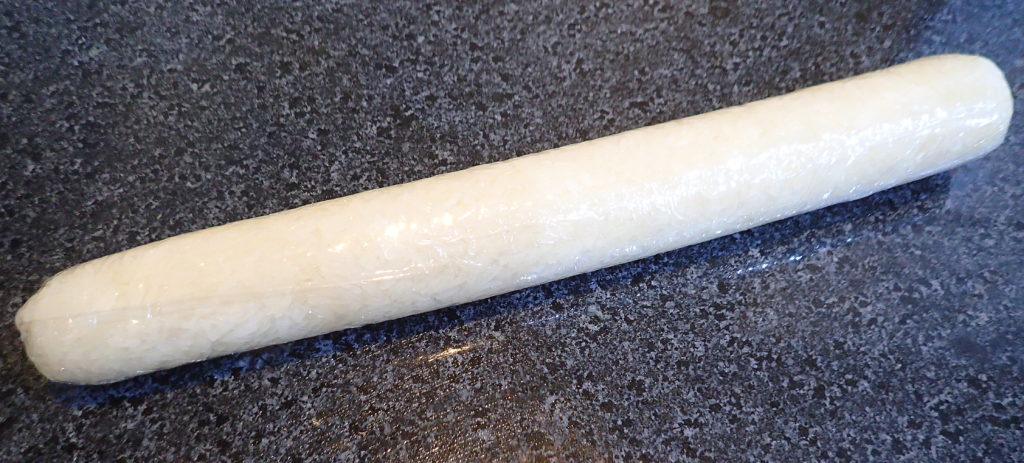 Updated 14th July 2021