I have been thinking of making this for ages in fact years. I wanted to make mango sticky rice pudding but with a twist. So as to confuse the senses. Look like Kueh Seri Muka, but is coconut sweet with a coconut sauce aka Thai Mango Sticky Rice Dessert (Khao Niaow Ma Muang)
The colouring are all natural mango bright yellow and the blue is from blue pea flowers. The riper your mango is the brighter the yellow orange colour is. The more blue pea flowers you use the more darker blue the colour is.
I have a friend coming over to UK for a visit and she is bringing me some more blue pea flowers so I have decided to splash out and use my precious stash.
(I am going to experiment this using gelatin powder as a setting agent for the mango topping next and will post recipe if it turn out nice) For the moment I feel this is a good eat.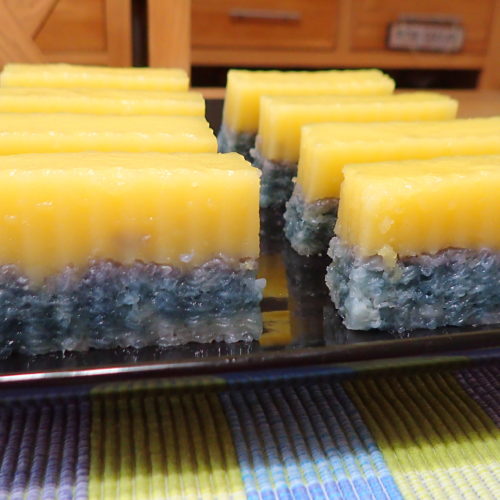 Mango Sticky Rice with coconut sauce
Ingredients
Sticky Rice
300

g

glutinous rice soaked overnight

200

ml

coconut milk

½ – 1

cup

castor sugar

pinch

salt
Blue Pea colour boil down to 50 ml
50

g

blue pea flowers

100

ml

light coconut milk
Mango Topping
450

g

from 2 ripe mango blended

300

g

coconut milk

100

g

rice flour

100

g

tapioca flour

2

tbsp

wheat starch

100

ml

water
Coconut sauce
200

ml

coconut milk

2

tbsp

caster sugar

next time I will try gula Melaka

1

tbsp

Tapioca flour or corn starch

pinch

salt
Instructions
Sticky Rice Base
Mix everything and steam for 30 minutes.

Meanwhile boil the blue pea flowers and light coconut milk to get 50ml of blue water.

Place the glutinous rice onto a 20cm x 20cm tin and add the blue water to the gluttonous rice and press down and steam for 10 minutes

Please make sure you use a good non stick pan or grease your pan or better still line it with banana leaves.
Mango topping
To make the mango topping mix everything together and cook slowly over low heat till sauce thickens like custard.

Pour the mango topping on top of the glutinous rice and steam on low heat for 30 minuted till set.

Remove and set aside to cool down completely before cutting.
Coconut Sauce
Mix everything together and cook over low heat.
To serve
Serve with slices of mango and coconut sauce. It would be nice if you can add coconut shaving too.
Notes
Please have fun experimenting. Here I made a recipe to use up 2 tins of coconut milk as it's 400ml a tin. The adding of sugar more or less if entirely up to you. Please adjust to taste.