I have been wanting to eat this for a long time. Especially the burnt bits at the bottom. Finally make it with the lap mei (assorted waxed meats my sister-in-law sent me all the way from Malaysia. Craving satisfied.
Because I do not have a big enough clay pot I made it with my Circulon pan. It turned out quite all right. I purposely leave the rice longer to get more tasty bottom bits.
I used a few mixture of waxed meats and a salted duck legs. Hence I did not use any soy sauce. I leave it for the individual to season themselves.
As I am writing this my stomach actually growled at me. kekekekeke  I must be hungry.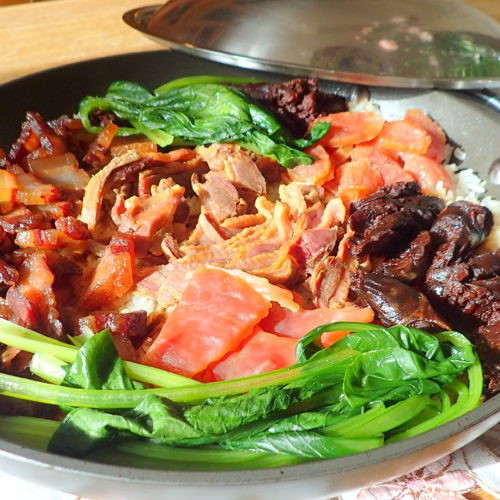 Lap Mei Fan Preserved (waxed) Meat Rice 臘味飯
Ingredients
Assorted wax meat

Choy sam

2

cups

Rice

1

tbsp

Shallot oil

1

tsp

Chicken powder

pinch

Salt & pepper

1

tsp

Sugar

1

tbsp

Sesame oil
Instructions
Start by blanching the wax meats with hot water then slice them.

In a pot add the washed rice, water and chicken powder. Bring to a boil then lower the heat. Place your blanched and sliced wax meats on top of the rice and season with a pinch of sugar. Cover and leave it to simmer for 10 minutes or so

Meanwhile blanch the choy sam or bak choy separately with sesame oil and set aside.

As I am using salted duck I did not add anymore seasoning. Serve and taste.

If needs more seasoning still then let the individual season themselves.