This is a very rich cake. Read up about it from wiki here -> kek lapis
Kek lapis Sarawak or Sarawak Layer Cake is what is known to me when I was growing up in Kuching. It is a cake normally reserved for serving during Chinese New Year for us Chinese. However I remembered being offered them when I visited my kawan Melayu (Malay friends) during Hari Raya time and they always have a lot of choices. In Sarawak during all special celebrations and occasions you will see a lot of kek lapis being served. They are of amazing 'batik' designs and some are multi coloured and of many flavours.
Kek Lapis Legit main original ingredients is the spice mix known as – Spekkoek, which is a mixture of spices consisting of cinnamon, clove, nutmeg and cardamom
Historically the Sarawak layer cake has its origin in a form of layer cake with various spices found in Indonesia called lapis legit or kek lapis Betawi or Batavia, the old name of Jakarta. This spiced cake is thought to have derived from a form of European spit cake which was made by the wives of Dutch administrators in Batavia during the colonial period and served during evening tea. It is believed that this type of spiced layer cake was introduced to Sarawak in the 1970s and 1980s by people from Jakarta. The Sarawak people then added new ingredients, flavour and colour that resulted in a new version of the layer cake being introduced and named as Sarawak layer cake. In addition, modern Sarawak layered cakes were inspired by Western cake-making in the early 1980s, later modern design to the traditional layer cake, along with new flavours were introduced.
Interestingly only in my research for this post I learned that in Malaysia, kek lapis Sarawak (Sarawak layer cake) has been a protected geographical indication since 2010. This means that any product may only be called "kek lapis Sarawak/Sarawak layer cake" if it is manufactured in Sarawak according to the specifications of the Sarawak Layer Cake Manufacturers Association. It is illegal to label a similarly-manufactured cake "kek lapis Sarawak/Sarawak layer cake" if it is not actually made in Sarawak, and strictly speaking, producers outside the state may only legally name their products "Sarawak-style" layer cake.
A standard 8 x 8-inch cake Sarawak styled layer cake may contain up to 30 egg yolks, copious amount of butter and sugar and condense milk not to mentioned the special spice that gives it the unique aroma.
Not only does the cake uses an amazing amount of these few ingredients, it also takes up a lot of time as one needs to stand next to the oven and not move away, adding the batter in each and grilling each layer by layer. I used a half cup for each layer. The pics showed the steps by steps.
Kek Lapis Legit
Ingredients
A – Butter Batter
300

g

Unsalted Butter

150

g

Condense milk

2

tbsp

Brandy OR Rum

100

g

Cake Flour

1

tsp

Spekkoek spice
B – Egg White Batter
8

egg

Whites

50

g

Icing Sugar (Castor can as well)

7

g

1 packet Cream of Tartar
C – Egg Yolks Batter
15

nos

Eggs yolks

100

g

Icing Sugar
Instructions
TIIP 1 – I baked my first layer in 200C oven for 15 till top brown. (both top and bottom heat)

TIP 2 – From the second layer onward use the grill at 220C tempt. (I used 230C at first then turned to 220C) You have to SIT and watch your cake. Do NOT move away cause as the level rises you might have to adjust the time for each layer. Just watch it brown. When brown enough remove and add the next layer.

TIP 3 – Use half cup measurement so you get a close to perfect layer amount of batter.

TIP 4 – You can add colours to your layers any other fruits, vanilla or brandy ….. (I actually brush each layer with some melted butter but it is entirely up to you. This cake takes some time but its not too hard a cake to make and it goes very well with black coffee for breakfast, lunch or dinner or even just for …..just because 😀
Notes
TIP – If your layers are a bit brown brush with some melted butter. (I mixed my butter with brandy) However if it is not a 'tad over browned you do not have to)
TIP – If you have no air bubble you do not need to prick your cake before pressing down. (When I first made this in UK I used a potato masher to press gently) 
TIP – After you added in the batter for each layer you will see the batter will melt before you put under the grill. do not worry. BANG the cake tin on a table a twice before placing it under the grill. (Those who had baked chiffon cake will understand.) This removes the air pockets so your cake will not have pimples 😀 
TIP – Lined your cake tin, preferably aluminium. I lined 2 layers of greaseproof paper on the bottom and I lined the sides too. (refer to pic as I do not know how to explain) 
TIP – Most importantly is not the recipe you follow is that your batters of A – Butter Batter, B – Egg White Batter and C – Egg Yolks batter MUST be mixed well. 
FOOTNOTE – While there are many recipes on the internet this is the one I used because I have so many egg whites leftover. All recipes works. you just need to make sure your batter is mixed well (do NOT mean overmixed) 
Prepare the ingredients
A – The Butter Batter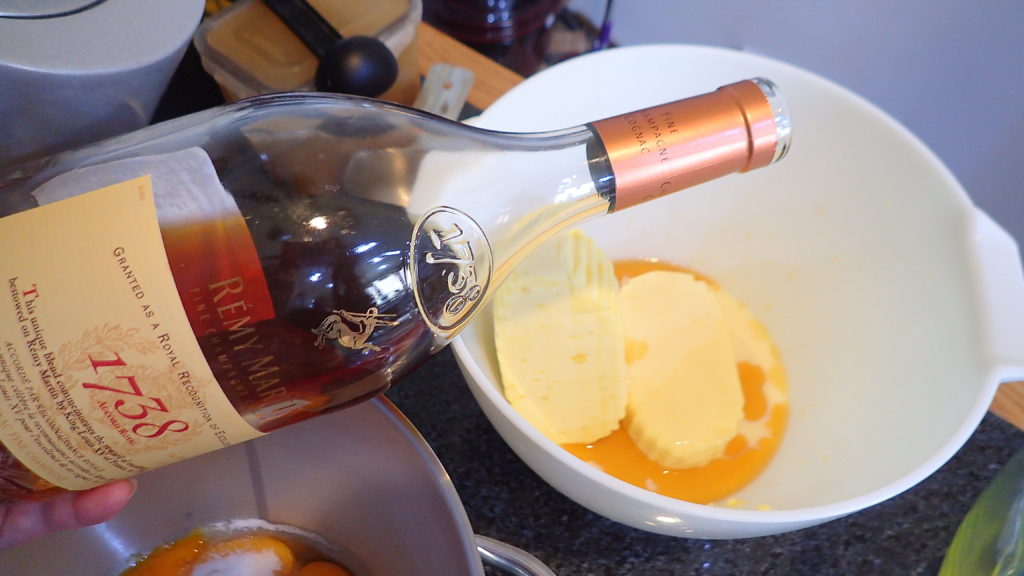 B – The Egg Whites Batter
C – The Egg Yolks Batter
Joining C – The Egg Yolks Batter to A – The Butter Batter (Do not overmix)
Joining B – Egg White batter to Batter C & A (do not overmix)
Getting ready for the baking – Oven top and bottom heat 200C