Traditional Cantonese Crispy Roast pork belly – Siu Yuk, 脆皮烧肉, is my daughter favourite of all Chinese roast dishes. She can never have enough of Cantonese Crispy Roast Pork Belly aka Siu Yuk and will eat it everyday if she could.
However normally after marinating and roasting it all day, after the cleaning up I find I am only able to manage a few pieces.
Actually Cantonese Crispy Roast Pork Belly is not hard to make. It just takes a bit of time love and attention. I have actually done a few steps by steps posts in the past but I have since lost my old blog so here's a new updated one.
I do not often order this dish in restaurants outside as I find them only having one taste – salty! That is NOT how a traditional Cantonese Crispy Roast Pork belly should taste like! Well not to me anyway 😀 The layer on salt on top type and wrapping with tin foil is NOT a traditional Cantonese Crispy Roast pork belly to me too. I cannot think what to do with the salt after nor wonder how the bottom can get nicely roasted if on tin foil.
While the pork belly is going through it stages be it salting or marinating you can go gardening, shopping, clean out your fridge freezer for examples. kekekekekeke or just have coffee and Facebook catch up.
TIP – The hot water on the skin not only tightens it but helps in giving you a crispy skin.
TIP – The salting of the pork draws out the water in the skin and makes it more crispy.
TIP : Only poke the skin, skin deep NOT onto the fat layer. The more holes the nicer the skin.
TIP : When roasting place the tray into your oven first then fill the bottom tray with a kettle of boiled water. This help to catch the oil dripping down and keep the pork belly very juicy.
IMPORTANT – You might need to add more water to your tray halfway!
Update: 7th April 2021- Recently due to Covid19 lockdown I have been purchasing pork belly from Costco. I prefer to go around dinner time, less people then. The pork slabs weigh just about/under 2kg a piece. My daughter have been learning to make traditional Cantonese roast pork and these pieces took about an hour to roast in a fan oven with top heat at 200C
Try to chose the pork with a firm skin and not floppy skin with creases. Firm skin makes the best crispy top.
We have been making it in the afternoon, then after marinating the bottom, with the skin still dry on a piece of cloth, leave it to marinate overnight
Wrap with cling film (because I do not like my fridge to smell of 5 spices) and put it in the fridge overnight.
The next day flip it over, remove the cloth and let the skin dry for a day. Would be better if you can out it in the sun.
Roast it in the late afternoon and eat the next day. The skin will still be very crunchy if you do not seal it. Just cover with a net cover and leave it in a cool place. In my case it is my kitchen as I do not have heating on there.
My daughter has just about managed to make this on her own. I will buy a few more pieces of pork for her to try a few more times. I get to 'goyang kaki' too – kekekekeke
Traditional Cantonese Crispy Roast pork belly – Siu Yuk, 脆皮烧肉.
Ingredients
2

large

Fermented Red Beancurd (I have matchbox sized pieces)

1

bulb

Minced Garlic (I love the taste of garlic)

2

tsp

Five spice Powder (more if you wish)

Freshly ground Sarawak Pepper

Half

cup

Rose Wine/Rice wine

Pinch of sugar (optional)

Plain vinegar for halfway brushing.

Boiled water for roasting tray

salt
Instructions
Prepare the slab of Pork Belly
Rinse the pork belly with a few kettle of hot water. When doing so scrap the skin with a knife to remove all the impurities. See pic.

Dry the pork belly and then use your poker and poke the belly skin as long as you can bear. I did this for at least 30 minutes. (The longer the better)

Next you salt the pork belly all over with salt and leave it for 3 to 4 hours. This is to draws out the moisture so the skin will be crispy and it will stays crispy for 2 days.
Prepare the marinate
Mince the garlic, add in the fermented red beancurd, pepper, wine, five spice powder and mix everything well.
Marinate the Pork Belly
Give the pork belly another rinse with hot water and dry the skin. flip over the pork belly onto a clean cloth then marinate the meat side only. Do not marinate the skin.

Let the marinate sit for at least 2 hours (overnight better) before turning it over and dry the skin in the sun for 2 or more hours. (again overnight is better)
Roasting
Place the pork belly on top of a rake with water to catch the oil dripping when roasting. This is will not only keep your pork belly moist all through roasting but will stop your oven from smoking.

Roast in 200C oven until the bones stick out about 1.5 hour to 2 hours.

After 2 hours replenish the water from boiled hot water and put the temperature higher to 230C for another 30 minutes.
Notes
Remember the roasting time will depend on the size of your piece of pork belly and your taste. Adjust to your taste slowly as you roast each piece/time. This is a scant 6kg piece as I wanted the roast pork for another dish
I did not use soy sauce and I have never used or oyster sauce as I know my pork belly would be just salty enough for my taste. Adjusting the salt depends on how long you kept it salted during the salting time. The longer you salt, the less salt you use at the roasting time etc.
Part One – Preparing the slab of Pork Belly.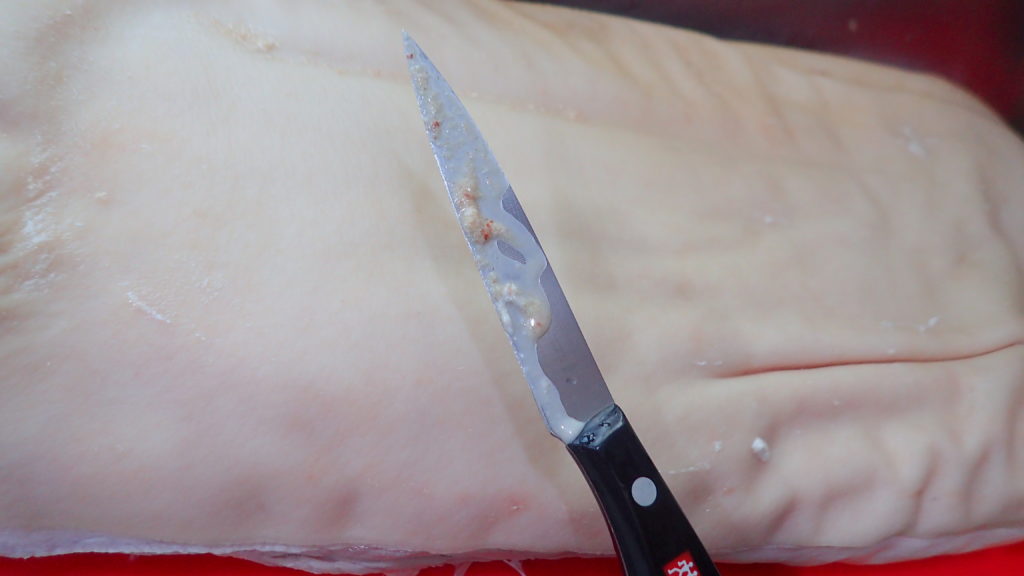 Part 2 – Preparing the marinate
Part 3 – Marinating the Pork Belly
Time for Roasting – Roast for 2 hours on 200C then refill the water tray, brush the skin with vinegar and up the heat to 230C for 30 minutes.