Stir fry rice vermicelli with dried shrimps. My comfort food. While away for the last 3 weeks this is the dish I wanted to eat most. A simple rice vermicelli stir fry.
Woke up early today and could not get back to sleep. So I was already frying this at 7am this morning.
Luckily my hubby is one that is happy to eat this for breakfast, lunch and dinner. He's extremely good when it come to food. Every so often I asked him if he is just eating to please me and his answer is always 'not at all'
He eats with such total enjoyment and gusto that I just have to believe him. In fact a friend's husband, also an Englishman recently commented that if he had not met and seen my hubby eats he would never have believed it, if told an Englishman loves Asian food so much and can eat so spicy. My friend and her husband visited for a weekend and we ate at mine and at restaurants too.
TIP – Do not add water to your noodles as there will be liquid from your fresh vegetables and beansprouts. I hate soggy noodles.
TIP – Only soak the noodles in hot water quick, do not boil them if frying. Again I hate soggy noodles.
TIP – If you like to eat the bottom burnt bit turn your fire to high for a couple of minute at the very end with a a few drop of oil to the side all round the wok. This will give you the happy crispy bottom. These are the cook's perk!
TIP – If you have pork lard use it!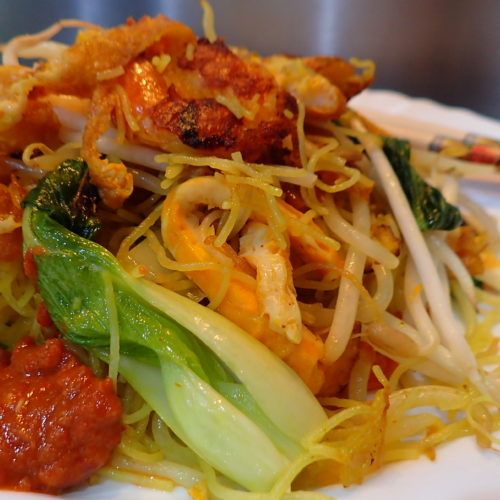 Stir fry rice vermicelli with dried shrimps
Ingredients
The must have
Dried shrimps soaked and pounded

Mince garlic

Sliced shallots

Mince ginger (this is to lessen the fishy taste of dried shrimps)
Proteins (Optionals)
Prawns , chicken or pork

Fish cakes sliced

Chinese sausages (optional)

Eggs pancakes style fried and sliced thinly
Seasonings
Turmeric powder

Curry powder

Chicken powder

Soy sauce

Freshly ground pepper
Fresh Ingredients
Beansprouts

Bak Choy or Choy Sam

Red chillies sliced (optional)
Instructions
In hot wok with a touch of oil make your egg pancakes, remove and then slice thinly.

In the same wok, fry your garlic ginger, shallots and dried shrimps till you can smell the dried shrimps making sure not to burn your garlic.

Add in your protein last being the prawns because I do not like overcooked prawns. Please refer to pics.

Add in your noodles and seasonings. Give everything a good stir before adding the fresh vegetables.

Turn the heat off and topped with your beansprouts and your chopped eggs before serving with sambal belacan.