The weather is abysmal today. Rain rain and more raindrops, not heavy rain just constant wetness.
Hubby needed lunch earlier as he has a meeting and I decided to go for tender slices of beef in bagels with onions, cheese and mushrooms. An easy half hour cook.
I bought a piece of beef skirt for £5. it weight about a kg. Beef skirt is not too expensive and when cook this way it is not bad to eat and hubby loves it as not too fatty. otherwise he is not a fan of red meat. I often use beef skirt to cook stir fry, leeks, Chinese leave cabbage etc.
My tip on making the beef really soft and tender – Hubby loves his beef this way. It's the secret Chinese way. 🙂 Often I have been asked by the Brits what is the Chinese secret to making really tender beef with our stir fries, just like the ones they get from the restaurants and this is the way.
The secret is bicarbonate of soda. The most important secret is not too much and do not marinate too long. You want to tenderizes the beef not turn them into mush. if you do it this way I guarantee you no more tough beef.
However this is unnecessary with expensive cuts of beef like chateaubriand, filet mignon etc
TIP – Do not season your beef before o when frying. Salting the beef now draws out the juice and won't leave them tender and juicy. Season AFTER frying.
TIP – If you want to use as stir fry Asian style lose the worcestershire sauce and instead use soy sauce, touch of rice wine and a tsp of cornstarch. Loosen the marinated beef with sesame oil before hitting the pan to flash fry with garlic, ginger etc. Then use your tender beef to fry your vegetables of choice.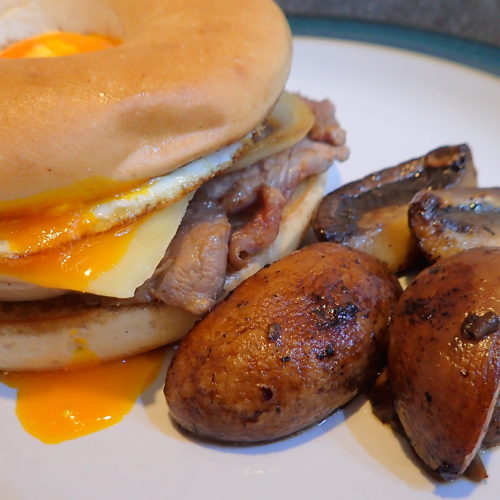 Bagel with tender beef slices
Ingredients
Ingredients
1

pkt

Bagels

1

pkt

Butter

1

kg

Beef skirt

3

large

Onions

1

pkt

Chestnuts mushrooms

Eggs

Cheese

Salt & pepper to taste
For the beef
Slice across the grains

Marinate with worcestershire sauce

Light sprinkle of bicarbonate soda for 15 minutes.
Instructions
Tips on slicing beef (please refer to pic)
met lashing of butter and toast the bagels cut side down. Remove and set aside.

Slice beef across the grains and marinate for 15 minutes.

Pan seared with butter a minute each side. Remove and set aside to rest.

Fry the onions till tender but not too soft so they maintain a CRUNCH.

Add more butter and fry the mushrooms. meanwhile fry your eggs.
Mine as I do not like bagel