I have never hidden the fact that I prefer my cake naked. If it has to have a filling then I prefer it with fresh cream. I do not like a lot of icing, fondant, marzipan etc etc. However I like a bit of butter with dry cakes, ok a lot of butter with dry cakes such as tea cakes, which will be my next cake recipe. I love the tea cakes my mother in law makes for me every time I see her. I am also partial to a bit of crème anglaise with my cakes.
Besides very rich butter cake I have a love for Marble cakes. I can't even remember where I got the original butter cake recipe from but I love old school and old world recipes. I have accumulated through three decades a large amounts of cookery books and some very old ones too. Over the years I have tweaked the butter cake recipe to just how I like it.
The other day I was enjoying my butter cake and thinking it's time I tweak it into a marble cake but I do not want to lose any of the buttery goodness. I went and bought a fridge drawer full of butter intending to start experimenting and using my the family work colleagues, neighbours and friends as guinea pigs but to my surprise I like this cake on first try!
So I better write down my recipe pronto else I forget. I have also promised some people to write this out.
I fell the most important thing to remember is not to use different setting when beating egg whites. This is to ensure that all the air bubbles with be same size, stable.
Second most important thing is to make sure your baking powder is in date. Nowadays I prefer to buy those sachet ones but for heavy cakes like this it is better if you have double action baking powder.
Thirdly you need to bake your cake according to your oven's idiosyncrasy. Get to know your oven. Each oven works with a slight different and mine is a fan assisted oven. I also live in the UK and inside my home temperature is never above 23*C in winter.
Lastly for a marble cake to look good the brown part should be less than the plain batter. Only then will it look good. (My opinion)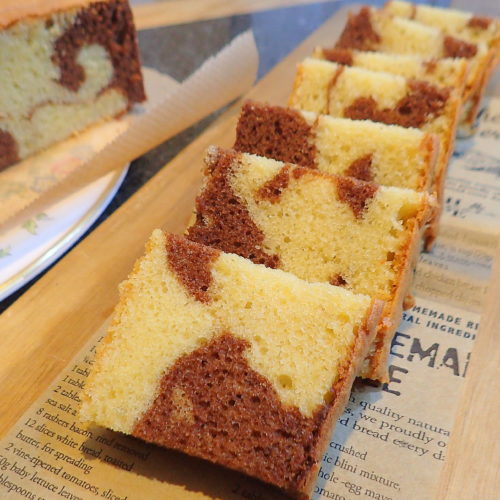 Brandy Butter Chocolate Coffee Marble Cake – Special
Ingredients
Four Mixture
300

g

Cake flour (sieved) + large pinch of salt
Egg Mixture
10

eggs

whites + 2 tsp baking power

250

g

castor sugar

10

eggs

yolks (beat thoroughly with whisk)
Butter Batter
450

g

Butter

50

ml

Condense milk

1

tsp

Vanilla bean paste

50

ml

Brandy
Remove 40% of the Butter Batter to make Chocolate and coffee portion
10

g

Chocolate powder

10

g

Coffee powder

2

tbsp

Camp Coffee (coffee-flavoured syrup)
Instructions
Instructions
Pre-heat oven to 200C, turn down to 170C and place cake batter in for 10 minutes. Then turn down to 130C for 70 minutes.

Separate the eggs whites and yolks.

Lightly grease the base and sides of the cake pan with butter, and sprinkle lightly with flour. Turn the pan upside down at the sink and knock off any excess flour. Or use a good non stick paper and stick with some butter on to the pan.
Egg Mixture
Whip the egg whites on medium-high speed until foamy and sprinkle in the baking powder.

Continue mixing to a stiff soft peak adding in the sugar slowly.

Add in the beaten egg yolks and gently whip for a minute to combine until thick and creamy looking. Do NOT over beat and lose the air bubbles!
Butter Batter
Place butter and condensed milk in the bowl. Beat on medium speed until light and fluffy.

Add in the vanilla essence and or brandy. Add half the Egg Mixture to the Butter Batter. Whipped till well mixed. Gently fold in the Flour Mixture and fold lightly together with the rest of the Egg Mixture.

Divide the batter into 2 portions. Set ONE portion aside and to the other portion add the coffee powder, chocolate powder and camp essence.

Alternately scope both the batters into your prepared pan and gently smooth the top. Then bang your pan twice before putting it to bake.

Reduce the heat of your oven from 200C to 170C and bake for 10 minutes. Then reduce oven temperature to 130C for a further 70 minutes or until cake is cook. (My oven is fan assisted)

When cake is done, remove the pan from the oven and place on a cooling rack. Let the cake cool in the pan for about 20 or so minutes, then turn out onto a cooling rack to cool completely. This can take about an hour!
Notes
TIP – When beating your egg whites use the same setting so the air bubbles stays stable. After you mix in the egg yolks gently mix. Don't kill all the air bubbles.
TIP – I use a checked cooling rack because it helps me to portion slice easier.