It is without a doubt that if you want to eat something to your taste or if you are fussy with your food then you have to learn to make it yourself. I have to admit I am quite fussy though my close friends will say I am extremely fussy.
I, on the other hand blame my parents for teaching me to eat well and my father-in-law, fish monger extraordinaire from Devon was a good cook too. So I have been influenced by the best from both sides of the world.
I am not sure how many times I have made this throughout the years but normally this is made with pork belly minced. I wanted to encourage a friend to add this to her menu repertoire so I created this chicken breast meat and prawns combo. I think this time this simple combo is actually not too bad judging by my food critic hubby. This is the 3rd time I made them in so many weeks and he still loves them! The first time was way too 'tough' and I realised I must not mince the chicken too much. I practise and learn as I have willing guinea pigs 😀 The family actually prefers beancurd skin to springrolls skin wraps.
Barred the rice wine this is actually halal. I am not sure what can be used to get that 'alcohol' taste but my friend would have to experiment that by herself kekekekekek
Featured in this post is my signature beancurd wrap with a piece of Nori wrap in the middle. My husband really loves this because he says it taste better! The umami ……
I actually prefers Fu Pei Guen – 腐皮卷 to Ngoh Hiang (五香 / Lor Bak) I think this is basically because I am not a big Chinese five spice fan. I do not mind a light hint of it but I hate it when I burrrrpppped an hour later and still 'taste' it.
Anyway my advise is use my recipe as a guide, add or minus as much or as little as your like to suits your taste and make it your recipe. The only warning I can give is that you don't make your recipe too wet.
Enjoy.
p/s if you have read till here then I think you deserves a big HINT 😀
HINT – if you do not want to use so much prawns and loves the prawns taste, you can soaked a handful of dried shrimps and blend them to dust and add to your fillings. You will NOT regret it.
Second HINT – Fry a tiny bit of the fillings and taste. See if you need to adjust the seasonings etc before wrapping.
Third HINT – After wrappings leave your wraps to dry a bit before frying. Wet = oil spitting.
Update – 8th October 2020 – I made another batch today with equal amount of chicken, minced pork belly and prawns. Everything else remains the same but I added fresh coriander and if you like coriander then it's good.
Hubby requested I wrap smaller but with nori – my signature fu pei guen. He prefers the nori for the extra umami taste.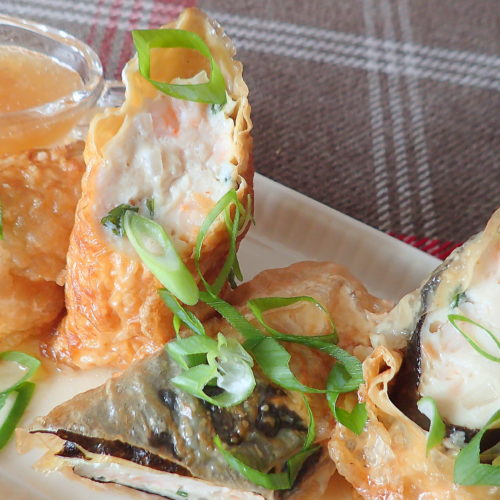 Fu Pei Guen – 腐皮卷
Ingredients
The Fillings
2.5

kg

Chicken

1.5

kg

Prawns

1

bowl

Cubed carrots

1

bowl

Cubed Mooli / Yam bean

1

cup

Corn-starch powder

2

nos

Egg whites only!

2

tbsp

Chicken powder

2

tbsp

Sea salt

1

tbsp

Freshly ground peppers

1

tbsp

Sugar

1

cup

Rice wine
The Sauce
2

tbsp

Peanut oil / Sunflower oil

1

tbsp

Grated ginger

1

tbsp

Minced garlic

2

cups

Chicken stock

Half

cup

Cooking rice wine

Freshly ground white peppers

Corn-starch slurry for thickening

1

tbsp

Sesame oil (optional)

1

tbsp

black vinegar (optional)
Instructions
Fillings – Mix all together and marinate for an hour or so.

Sauce – Fry, boils down then add corn-starch slurry to thicken last minute. Not before.
Notes
TIP – Do not use anything 'dark' in your marinate. Do not use like soy sauce, oyster sauce etc or your Fu Pei Guen will not look nice and golden after frying.
TIP – Every third fry I will sieve the oil as I do not like black bits to stick to my rolls.
TIP – Buy the Fu Pei only from the frozen area in the Chinese supermarket. you can cut and portion and pack individually. Then stick the rest back into the freezer for a later use. It is fine. 
TIP – It's is not too hard to hand cut your mooli/daikon and carrots and the 'crunch' is better than shredding. The mooli in UK do not have a strong radish taste and it taste like bangkwang (yam bean) and especially in wraps you cannot taste the difference. 
TIP – If you are eating immediately you may add ginger in the fillings. If not then don't add as ginger tend to be strong and they 'mashed' the proteins. Become 'mi mi' (Hokkien) Hence I added extra to my sauce. 
The marinate
The wrappings
The Frying
The Sauce