With a Cantonese mother and a Hakka father I decided I have to cook this dish this way. I know, I know I deviated from traditions but I want to pay homage to both my parents. I blame it on lockdown. Too much time at home thinking. kekekekekeke
As my daughter is trying to learn how to do a Cantonese roast pork properly we can use the fruit of her labour. For my Traditional Cantonese Roast pork belly recipe – Traditional Cantonese Crispy Roast pork belly – Siu Yuk, 脆皮烧肉. – Just Julie (julieolive.co.uk) She made this piece of Cantonese roast pork yesterday and I turned it into Hakka Mui Choy with Pork Belly 梅菜扣肉 today for our evening meal.
Surprisingly the hubby love it and the daughter had a second helping too as we skipped lunch today. They were saving their calories for this dish. So funny.
I am very happy with this dish so I am posting recipe to share. I suppose it does take a bit of time to make the Cantonese Roast pork belly but you do not have to do everything in one day.
It's not a stressful cook on the day as I do not have to boil the pork, marinate and fry on the same day anymore. Cooking it this way I have a different skin texture that I find very pleasant and it does eliminate half the cooking time on the day itself.
I suppose the best of all is that my family loves it.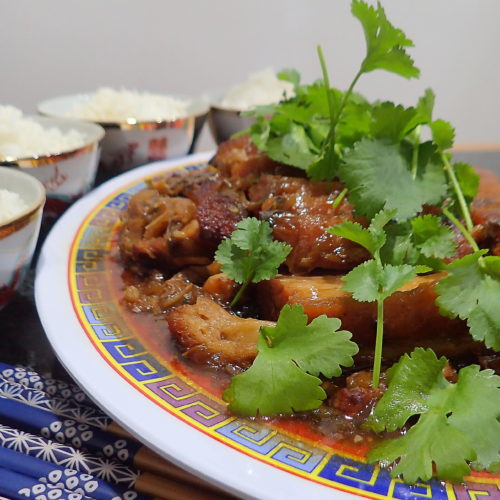 Hakka Mui Choy with Pork Belly – 梅菜扣肉
Ingredients
Piece of Cantonese roast pork

Ginger

Garlic

Shallots

Star Anise

Dark soy sauce

Oyster sauce

Sesame oil

Rock sugar

Rice Wine

Pepper

Mui Choy, mustard vegetables (I used 2 pkts)

Corn starch slurry to thickens
Instructions
Fry the ginger, minced garlic, shallots, and sweet mui choy.

Add a couple pints of water

Add in all the sauces, seasoned and taste and taste till you are happy. I preferred mine with more wine.

Stew the mui choy (mustard vegetables for at least half an hour before assembling.

Assembly with the pork belly skin side down.

After assembly leave the pot alone for a few hours (the longer the better) Then put to steam and go watch television. Set your alarm for 2 to 3 hours.

When inverting be careful, use a flat plate to drain the juice into a bowl first then overturn the Hakka Pork onto your serving plate. Pour the juice from the bowl back onto your pork.

Topped with coriander and serve to happy 'customers'