Every year during hubby's birthday I will cook a special meal for his departmental colleagues which is usually around 15 to 20 people. That is all I can manage as the entire building will have a couple of hundreds personnel! (pre pandemic) Everyone does the same on their birthdays but mostly the food is shop bought so they all looked forward to my hubby's birthday each year.
I enjoy doing it as I am weird. I actually enjoy the planning and executing more than eating the food itself. I was talking to a friend the other day and she roll her eyes at me. kekekekekeke I enjoy introducing the majority British colleagues with what I like to think a true Malaysian hospitality and cuisines. I also have to plan what I can cook that can travel, easy for hubby to carry in the boot of his car. Luckily his office is just 10 minutes drive away.
When the colleagues come back and tell my husband they went to this and that restaurants and order the same food I have made for them but they tasted totally different, not enough ooooomph….it makes the hubby proud and make my heart sings lah (honestly) That is why I like to plan, execute and give them different food each year; introducing them to our Asian, Malaysian cuisines.
It had been 2 years now that they missed their treats – This was in 2017
Tri-coloured nasi pulut with chicken tikka masala, tomato chachumbar, mango raita, cumin potatoes and spicy vegetarian aubergines with mock chicken for the vegetarian.
Yesterday was not a birthday or anything but the colleagues have missed hubby's birthday twice due to the pandemic so the boss asked hubby if he could 'persuade' me to cook them something for their first "meet & greet". The only annoying thing is I have 2 days notice!!! Darn it! Hubby forgot to tell me and it cuts down my pleasure of the 'planning & executing' process joy!
However I have to plan something the colleagues have not tried from my kitchen before and must be Covid19 friendly. I decided on individual boxes and must be dry not wet food. So I came up with Mee Siam for main. I have not been able to find a vendor to cater to my taste so far outside so I have to cook. I did not plan to write this recipe out as it all agak-agak and I cooked 3 packets of vermicelli noodles yesterday and the last wok I added some egg noodles. However to my surprise a few persons asked for my recipe so I am scaling down this recipe for 1 wok full or 1 packet of rice vermicelli. I also served crispy wantons for starters and cupcakes for desserts.
So please bear in mind to taste and TASTE your sauce before you add in your noodles to suit your taste. Mine is extremely sour and spicy or one of my friend who ate it said 'zingy' kekekekekekeke I am very liberal with my lime and tamarind juice. Over the past decade the hubby's colleagues know that I do not compromise on taste for them. They can have red faces from the spiciness and still they will eat. Very funny.
TIP 1 – Do not boil your vermicelli noodles or over soak them. Just soak in cold tap water. When soft, remove and drain before use. (Ignore what is written in the packet)
TIP 2 – I do not use any soy sauces, dark or otherwise because I do not like the colour too dark and to me it is not necessary.
TIP 3 – Whole grain fermented yellow beans smashed, taste a lot better than the ready mashed ones. Half and half is perfect.
TIP 4 – Place half the eggy strips before the gravy runs dry so they can soak up the taste a bit.
TIP 5 – If serve immediately please gives the vegetables a toss with the hot noodles before serving BUT if you are packing for people aka tapau do not do so. Residue heat will cook the vegetables to crunchy perfection. Overcooked limps beansprouts and vegetables just look so unappetising to me.
COMMON SENSE –
1 – More sauce – wetter Mee Siam so less sauce drier Mee Siam. It is entirely up to your taste!
2 – Making more of the sambal paste and serving some separately is also nice for those who can eat extra spicy. If you are serving sambal please add a pinch of sugar.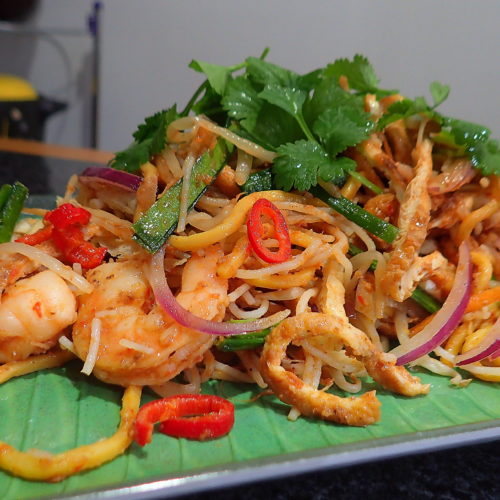 Mee Siam – Special
Ingredients
Garnishing – Fresh
Crispy shallots

Fresh chillies sliced

Coriander or celery leaves

Fresh limes segments
Garnishing – Flavoured egg pancakes
6

nos

Eggs

Salt + Pepper

Oil

pinch

tsp

Spicy Paprika
Noodles
400

g

Rice Vermicelli (I like to mix with mee, yellow noodles as well)
Vegetables
Beansprouts

Carrots

Chinese chives

Red Onions
Spice paste
10 – 12

Dried chilli

10 – 12

Fresh chilli

1

bulb

Garlic

1

bowl

Shallots

Small

matchbox size

Belacan – shrimp paste, please toast your belacan

1

tsp heap

Mince ginger

2

tbsp

Lime juice
Prawns
500

g

Prawns

1

tbsp

Garlic

3 to 5

pieces

Dried chillies

1

litre

Water
Dried Shrimps
100

g

Dried shrimps per packet of dried noodles

3

tbsp

Oil (I used peanut oil)

pinch

Sugar
Seasonings
3

tbsp

Sugar

1

tsp

Salt

2

tbsp

Fermented yellow beans (tauchu)

3

nos

Juice of limes

2

cup

Strong tamarind juice (I like very strong & sour)
Instructions
Garnishing – Flavoured egg pancakes
I made these and sliced them the night before. Beat your eggs and fry in 2 thin batches.
Noodles
Normally cooked with rice vermicelli but I like to add some yellow egg noodles for myself as I find only rice vermicelli too dry. I would say I use a ration of 3:1, vermicilli;Egg noodles
Vegetables
Julienned the carrots, cut the chives and red onions as close to beansprouts size as possible.
Spice paste
Grand all the spice paste together. You can do this ahead.
Prawns
Prawns – clean the prawns and keep the shells. Fry the cleaned prawns with a touch of oil, minced garlic and seasoned with a pinch of salt and freshly ground pepper. Set aside.

Prawns – clean the prawns and keep the shells. Fry the heads and shells with a tbsp of mince garlic and a couple of dried chillies with a tbsp of oil. Seasoned with a pinch or salt. Press with a potato masher to get all the nice bits out (brains)? Add in a litre of water and bring to simmer for 10 minutes then drain and keep the stock.
Dried Shrimps
Wash, drain and grind your dried shrimps finely. Heat up your oil and fry your grounded dried shrimps. When fragrance add in your sugar.
Seasonings – Have the seasoning all ready
I prefer my fermented yellow bean half whole and half paste. Buy the whole beans and just chop chop a bit with your cleaver. Very easy.
Wok+ing
In a hot wok fry your spice paste until 'pecah minyak' where the oils and paste separate.

Then add in your prawn stock and dried shrimp crisps. Bring to a boil. Next add in your seasonings, bring to boil again and TASTE. The taste must be MORE spicy, sour, salty and slightly sweeter than normal BECAUSE you need to add in your noodles + + +

When you are happy with the taste (heightened) add in your noodles and let the sauce absorb. Before the sauce dry add in half the eggs pancakes to suck up some of the sauce.

Turn the heat OFF before you add the rest, half of the vegetables but save half for garnishing when serving. This is entirely up to you but I prefer my vegetables crunchy and fresh.

Serve and garnish then take a pic before eating and post for me to see please 🙂