SousVide Beef brisket steak (28 hours), roasted banana shallots, creamy butternut squash, buttered asparagus, pickled roasted red peppers served with a red wine mushroom sauce.
I promised my boy lollipop that he will be getting only English food this week. Hence my SousVide machine has come out to play. I bought some beef brisket as they looked very nice and I do not mind beef brisket cooked SousVide as they are quite a tasty cut. However cooked normally it could be quite tough. This beef brisket steaks were about 3 cm thick but when SousVide at 140F for 28 hours they were really tasty and tender.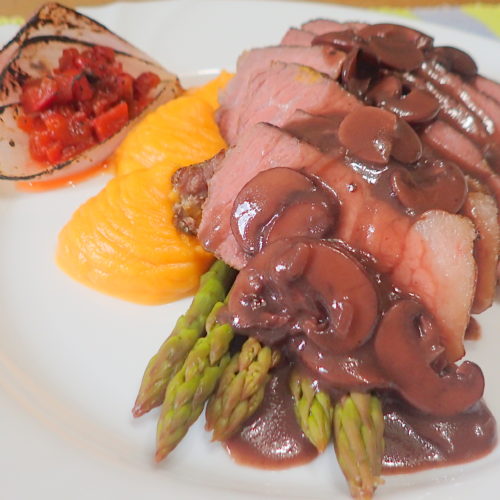 SousVide Beef Brisket Steaks in mushroom red wine jus
Ingredients
beef brisket

Mushroom Red Wine Jus

1

tbsp

butter

1

tbsp

mince shallots

1

tsp

mince garlic

1

pkt brown chestnut mushrooms

1

tbsp

Roux

mic butter & flour equal amount

1

cup

red wine

salt and pepper

Butternut Squash Puree

peeled and cubed butternut

butter
Instructions
Mushrooms Red Wine Jus
Melt butter and add in the chopped shallots and garlic. when fragrant add in the mushrooms

Add in the red wine. Reduce to half by boiling before adding the beef stock.

After adding the beef stock let it reduced to half by boiling.

Add the roux slowly and stir till it reach the consistence you want.

When done, add in any excess juice from your beef SousVide and a slice of butter for a glossy jus.
Butternut Squash Puree
Preheat oven to 200 C/Gas 6. Place squash on a baking tray and drizzle with melted butter. Roast in the preheated oven until tender and slightly brown, 45 minutes to 1 hour. Cool until easily handled. Scoop flesh into a food processor; pulse until smooth. I put into a pipping bag to pipe on plate,
Asparagus
Just blanch in hot water and just laced with butter.