A friend recently is very interested in learning this dish. Maybe because she sees I eat a lot of this. It's my go to lazy dish. When I am wrapping, I tend to wrap a big batch and bagged them into my freezer.
Then when I am hungry and want some food I would just make an easy chicken or mushroom stock, add a few of these babies from my freezer, some fried shallots with oil and any vegetables I can find in my fridge. Sometimes I add in an egg or two. Lunch or dinner is served within 20 minutes.
This brand of wrappers is the bigger ones so perfect for wrapping Sui Kow as I like to put in a lot of big bits of prawns. No I am not making my own wrappings though at one time when these wrappers were no on sale for 6 months I thought I might have to. Phew…..not that hardworking but was considering buying a pasta machine.
If you can only find the smaller wrappers then chop your prawns smaller.
As for my broth I use anchovies powder or mushroom powder or chicken powder if there's no home made stock in my freezer. The mushroom stock I buy from the Japan is very good. It is entirely up to you of course.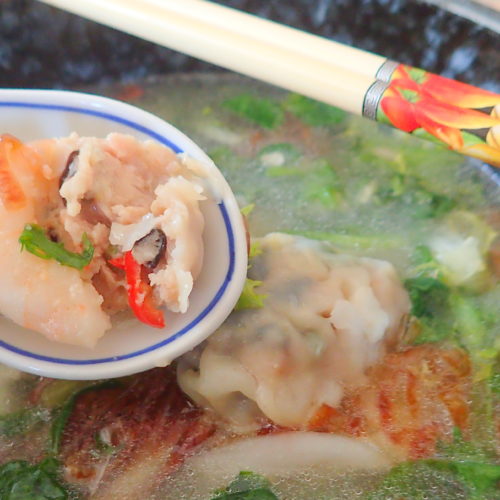 Chinese Dumpling Soup (Sui Kow) 水餃
Ingredients
The Fillings Ingredients
Wanton or dumpling wrappers

200

g

Mince pork with some fats

150

g

Prawns cut into chunks

1

tbsp

Spring onions + coriander

1

tin

Water chestnuts lightly minced

1

bowl

Wood ears soaked and chopped

2

Fresh red chillies mince (optional)
The Seasonings
1

tbsp

Cornstarch

2

tbsp

Rice wine

1

tbsp

Chicken Powder

1

tbsp

Sesame oil

1

tbsp

Sugar

Pepper
Instructions
Slice prepared prawns into big chunks (wrappers depending). Mix all the Fillings ingredients and seasoning together. Mix thoroughly. Lift and throw filling back to the bowl until filling becomes springy and sticky before using.

to wrap, just scope some fillings, making sure you have a bit of everything and place into the middle of your wrapper, just squeeze and then drop into a tray.

To freeze – place your tray into the freezer. When the sui kow have hardened all you need to do it pack them into a bag and store. Mine never lasted more than a couple of months.
Notes
TIP – You can add them to Maggie Mee for a feast!  TIP – I do not use soy sauce because I like my sui kow clear and not brown.