Kiam Hue Bihun is a dish i cook a few times a year. The hubby and I both love it. Provided I have ready fried salt fish of course, it is an easy 30 minutes cook and perfect for a quick lunch. I always add extra beansprouts as I love the extra crunch and texture then give.
The last time I fried my salt fish from Kuching, I saved some in a glass container infused with the oil and placed into my fridge for the time when I want to use it like today. They would happily sits in the fridge for a long time, months.
My very British hubby is a weird Mat Salleh who loves salt fish 😀 He always wears a happy face when he opens the front door and smell salt fish, udang kering (dried shrimps) and belacan.
Back in the days of my youth my mother said kiam hue (salt fish) was once known to be a poor man's food. Same goes for beansprouts too but nowadays salt fish is not cheap. Their prices seems to go up and up each year! Nice salt fish in UK is definitely not cheap at all.
TIP – Please add in any other protein you like. Pork belly, chicken etc.
TIP – Do not attempt to overly season the noodles as the taste should come from the salt fish, the omelette and the sambal that is served with it.
TIP – The beansprouts gives it that extra crunchy texture and adding kangkong would be very good idea too. Just make sure you do not overcooked them. They must stay fresh.
TIP – Calamansi lime is is a must too to balance the dish.
Enjoy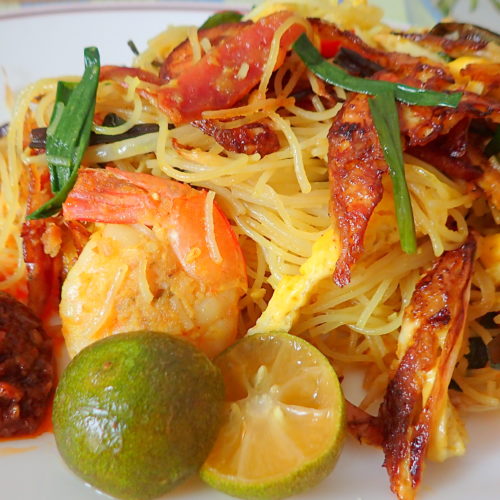 Kiam Hue Bihun (Salt fish rice vermicelli)
Ingredients
Salt fish – ready fried and breaks into pieces

1

bowl

Egg omelette fried with salt fish oil and sliced thinly

Chinese sausage – sliced thinly julienne style

Beansprouts

Spring onions if no kangkong

1

tsp

Garlic minced

1

tbsp

Shallots sliced

1 to 2

tbsp

Ginger julienned

1

bag

Rice stick vermicelli

1

tbsp

Turmeric (optional)

Prawns or dried shrimps

2

Red chillies – sliced
Seasonings are optional
Fish sauce (optional)

Sugar

Freshly ground pepper

Apple cider vinegar
Instructions
Salt fish
Pan fry the salt fish with extra oil for your omelette and noodles. Break the salt fish into smaller pieces and set aside.
Egg omelette
Use your salt fish oil to fry the omelette.
Noodles
Add some of the salt fish oil + a dollop of sesame oil and fry the garlic, shallots, ginger, prawns, Chinese sausage and then add in your soaked and drained rice stick vermicelli.

Season with turmeric sauce, pinch of sugar (to balance the saltiness) and freshly ground pepper. Do not add salt!

Add in your beansprouts, spring onions or kangkong and freshly sliced red chillies.

Give it a quick minute stir then off the heat immediately. Nothing is so off putting as soggy beansprouts.
Notes
I normally like to add kangkong but I do not have any on hand today. I like to add turmeric too as they are suppose to be good for you and I like the slight ginger taste and colour.
TIP – Let your noodles sit for 5 minutes on high heat after mixing in all your ingredients. Drizzle a few droplets of oil on the side of your wok. This gives the bottom a 'dirty bottom' the burn bits that taste oh so yummy.