A friend's Aunt came to my house for the first time the other day and she brought with her 8 beautiful sexy peaches. As a well brought up Chinese, we do not go to people's house empty handed and she practise this to the later. kekekekeke
I have fun thinking what to do with them and then I remembered my bottle of Crème de Pêche de vigne, basically a peach liquor and that is it. It is decided – Tarte tatin aux pêches (Peaches Tart Tatin)
This is not hard to make. As puddings goes it is extremely easy. It is good if you have unexpected guests coming. Serve hot with cold ice cream or serve cold with custard cream or pouring cream.
I served mine yesterday with fresh slices of peaches, with the peachy jus and topped with mascarpone flavoured with lemon verbena. So naughty but so satisfying.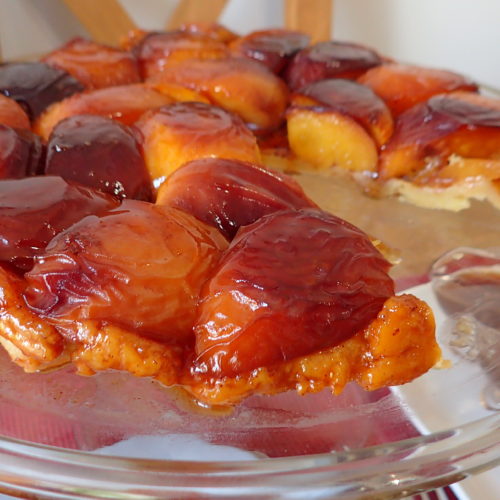 Tarte tatin aux pêches (Peaches Tart Tatin)
Ingredients
6 to 8

Peaches

1

cup

White Sugar

1

cup

cup water

200

g

Butter

1

pinch

Salt

1

nos

Shortcrust pastry

2

tbsp

brown sugar

1/2

tbsp

Cinnamon

1

cup

Crème de Pêche de vigne (Peach liquor)

Instructions
Place white sugar and water to make caramel. when light brown add in 100 g butter and the peach liquor if using. (Rum can do too)

Wash, dry and stoned the peaches then cut into quarters

When caramel is set pour on the pan 1 thin layer. Then layer the peaches skin side down.

Bake in 200C oven for 30 minutes. Remove from oven and then drained the sauce into a small pan. (do not throw away) Then sprinkle with brown sugar and dot with the rest of the butter all around.

Cover with the shortcrust pastry, tugging the sides in. (Imagine how it will look like when overturned) Place back into oven for another 20 minutes or so till the pastry is lightly browned.

When done remove your tarte from the oven and drain off the juice. Use a flat plate to help you.

While your tarte is cooling heat the collected juices till slightly thicken to sauce.

Turn your tarte onto prepared plate and serve with Crème Anglaise or ice cream.