Beehive cookies or Honeycomb cookies or Phang Siew Kueh or Kuih Rose is normally eaten and served to visitors during Chinese New Year.
It can be a bit difficult to make until you get the oil at the right temperature, the mould at the right temperature or else you will have trouble. However once you got the hang of it then it is easy. Just takes time.
I have been making these every year in the UK for Chinese New Year ever since I got some moulds from home. I have this recipe in my lost old blog and it's about time I add to this new blog.
Trust me I have had lots and lots of failures and I dread having to change my wok because it means I have to adjust and get to know what heat setting for my new wok.
Hence I actually have a few woks for special dishes/cook/bake. (I know I am weird that way)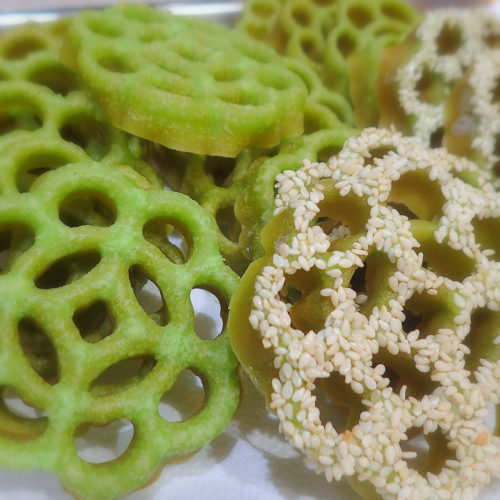 Beehive Cookies
Ingredients
180

g

Castor sugar

4

eggs

Small

250

g

Rice flour

50

g

Cake or plain flour

400

ml

Coconut milk

Pinch of salt

Oil enough for frying
For Pandan flavoured Beehive cookies
1

tbsp

1 tbsp of Pandan juice from blended pandan set in fridge overnight and only use the dark green bottom. Ratio is 1 tbsp to 1 cup of batter.
For the sesame
Sesame seeds of course – Place the seeds on a shallow plate and dip with your battered mould before frying and viola! Doing it this way you get less rogue seeds in your oil! However I will also only make the sesame seeds on my last bowl of batter, I hate dirty oil.
Instructions
Mix the sugar and eggs till no more grainy feel

Add in the coconut milk and mix well.

Next mix all the flours in and mix well. Let it sit for 10 to 15 minutes before using.

The amount of oil must cover the moulds height twice over slightly to make the perfect shaped cookie.
This gives me 93 beehive cookies with the small mould and lesser with the bigger one but I forgot to count. Heat oil and put your moulds in to heat up. This will take awhile. I use only the low setting and leave it to heat for like 10 to 15 minutes. However if you want to you can heat it at a higher setting then turn it low. If your mould is not hot then the batter will not stick properly.
TIP – Have lots of kitchen rolls ready to dab your mould quickly once when out of the hot oil before dipping into batter. TIP – If your mould is too oily the batter will fall off.
TIP – The longer you hold your mould to batter the thicker the cookie.
TIP – Leave the mould with batter for 3 seconds before dipping into hot oil. Then lift the mould up a notch (err….about 1 mm just to release it a bit) and count to 10 before you remove the mould finally. Leave it to cook for 5 seconds then flip over for another few seconds. Time yourself by looking at the colour. I like mine pinkish. (peachy)
TIP – Remove with a flat slotted spatula. Drain flat on kitchen rolls. (Remember timing depends on your heat.
TIP (MOST IMPORTANT) – Use another bowl to store your 'using' batter and leave the original batter in your container. Top up when your batter is half used. TIP – Keep your extra coconut water in case you need to lighten your batter, failing that you can use water.
TIP – When buying your mould remember that you need a flat bowl to dip your batter in and a flat wok to fry.