I was having coffee with a friend's husband when we were chatting about salted eggs crispy.
He mentioned that he had some amazing ones in Singapore but they were so expensive. That actually got me thinking as I have a balance of 3 salted eggs left from my last batch. I was thinking and thinking …..
So I decided the closest way to get salted egg yolks power in the UK is to dehydrate my own salted duck eggs yolks and grate them finely. So I did. Into a low oven I dehydrate them slowly for a good two hours. Then I place them openly in the fridge for a day to really dried them out and harden them so I can grate them easier.
TA DA it's done BUT I would add more salted duck eggs yolks next time as the taste is not strong enough for me though the family approves. However it does make me wonder what do people add to those commercial salted duck eggs yolks powder to give that very strong taste.
I also added a couple sheets of Nori that I have broken up for the extra taste.
I also used my favourite butter.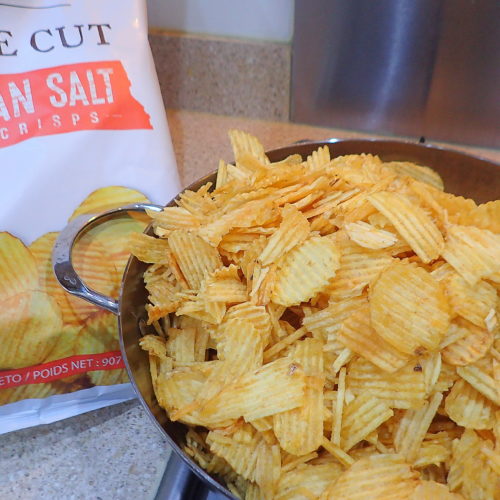 Salted duck eggs crips
Ingredients
Duck eggs (dehydrated & grated)

Plain crisps

Butter

Nori crisps
Instructions
The duck eggs yolks have to be steamed, dehydrated and then put in fridge overnight to dry and hardens. Then you I used a grated to to finely grate them

The Nori sheets I used were already toasted so I just broke them up.

Melt butter and add in the salted duck eggs yolks and fry a couple of minute till foamy. Then add in the broken up Nori bits and turn heat off.

add in your crisps and stir well.
Notes
TIP – If your crisps are ready salted do NOT add any more salt. If you can get nice plain unsalted crisps then add a bit of salt.