Nasi lemak is special, special to the hearts of all Malaysian. Although in my household one would think my husband was an Asian in his last life, or so all my elders (family & friends) members seems to think so.
The most important expect of nasi lemak is the nasi lemak sambal. Each person seems to have his/hers own special recipe as well as each household.
One can have nasi lemak with fried fish, chicken, sardines sambal, prawns sambal, sotong sambal and for me the dreaded petai sambal. (I just cannot get on with the smell of petai!)
There are limitless types of food you can serve nasi lemak with but the old school MUST have is the sambal sauce, the cucumber, peanuts, boiled eggs, and fried crispy ikan bilis (anchovies) served with fragrant coconut and pandan leaves flavoured rice.
This is my nasi lemak sambal recipe. I have a little chat with a good friend and finally found out what I have been missing in my nasi lemak sambal kuah (sauce). I was never quite satisfied with mine till now. I have since cooked this twice to make sure. Now I am extremely satisfied and felt I can share this. I do not document food I do not like.
Put this sambal in air tight containers and vacuum sealed. I have even posted to friends who are extremely happy with it. You can absolutely freeze them for a lazy day.
In this pic you will see my nasi lemak share platter which I served with tri-coloured rice. I cooked the nasi lemak sambal the night before and on the day itself I boiled plain coconut and pandan rice with a couple slices of ginger, then I did the same with pandan juice and saffron. I like a nice presentation, yes I do. Food taste much nicer if they are pleasing to the eyes.
TIP – After I fried my ikan bilis and removed from hot oil with a sieve I like to sprinkle them with a dusting of icing sugar while still hot. This makes your ikan bilis stay crispy longer and a lot more tastier. It's the combination of salt and sugar that is irresistible. However you do not have to do so.
p/s I am sure you do not need me to tell you how to boil nasi lemak 😀 However do not forget your liberal pinch of salt.
Update (06/09/2020) – today I added galangal as part of my ginger portion and I really love the taste 🙂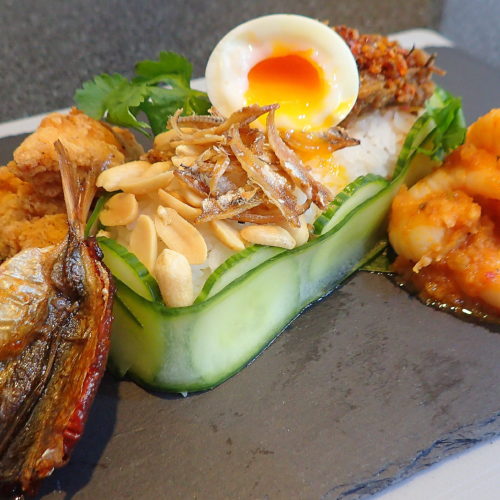 Nasi lemak Sambal
Ingredients
Paste Ingredients (to grind) & fry with the oil you used to fry ikan bilis
Oil (from frying the ikan bilis)

3

bowls

Minced onions (shallot or red onions)

Half

bowl

Garlic and ginger paste

1

bowl

Dried chilli paste

1

bowl

Fresh chilli paste

2

tbsp

Chilli Powder

2

tbsp

Belacan

100

g

Minced Ikan bilis (anchovies)

100

g

Minced Udang kering (dried shrimps)

2/3

large

Red onions sliced (I add more cause I love onions)
Ingredients to add to your Paste
3

tbsp

Gula Malacca (to taste)

2

cup

Tamarind juice

1

tbsp

Salt (to taste)

2/3

Fresh red chillies sliced thinly
Instructions
Firstly
Fry your ikan bilis (anchovies) in hot oil till crispy. Do not move away or they will burn. I fried 200g ikan bilis but this is entirely up to you. Save the oil for the next part.
Secondly
With the oil from the fried ikan bilis, add in your mince onions, ginger and garlic. Fry till fragrance of the ingredients can be smelt and add in the minced chillies. I used my Magimix and grind my ingredient then pour into my hot oil one by one.

Add in the chilli powder and belacan (toasted is best)

Next I grind and added in the ikan bilis followed by the udang kering and continue to fry till the unmistakable aroma of spiciness and the 'minyak pecah' red oil can be seen on top and add in the sliced onions to simmer a bit before the last bit.

Lastly add in the gula Malacca & tamarind juice. TASTE Season with salt. Adjust seasoning to your liking and sprinkled some freshly sliced red chillies before heat off.

The last thing you do is add in half of your fried ikan bils and give everything a quick stir. Done.

NOTE – remember to TASTE it cold as food taste during hot and cold taste different and nasi lemak kuah (sauce) is often served lukewarm or even cold.

NOTE – remember to adjust taste AFTER you added in your fried ikan bilis as they are salty!