Char Siu Baozi ( 叉烧包 ) taste a heck of a lot better with charcoal BBQ char siu. I will not make (叉烧包) again with char siu make any other way. With sesame seeds and coriander, this is how I remembered it used to be when I was young, hmmmm…..when I was younger? Some 30+ years ago.
This type of baozi fillings can hardly be found anymore. My son used to love the char siu bao when we have Dim Sum and when I buy home the ready made bao. However in recent years they are so full of fat pork and only taste sweet that he has gone off them. He was so happy when I made these for him with pork shoulder. The hubby who don't like fats pork appreciate them too.
I have been hankering to make myself some for ages as I just could not get fillings I like and the filling is always wanting. Then it occurred to me it is missing that BBQ charcoal taste. So last week I made 2kg plus of char siu with extra marinate to make the sauce and saved some for today. For my char siu recipe please click here https://www.julieolive.co.uk/2020/07/22/char-siu-chinese-bbq-pork-ala-julies-recipe/
It is much better to make your char siu, cubed them, cook with the saved marinate (please refer to link) adding cornflour slurry to thicken then place in a shallow container with lid in fridge to use the next day.
TIP – Do not add the sesame seeds and coriander leaves until it is time for you to wrap so the coriander stays green and the sesame seeds stay light. Much prettier looking. I do like pretty looking food. Eat with the eyes first for me.
Next is to figure out the easiest way I can make the 'bun/skin' making as I still cannot use my left shoulder and hand that much still due to my frozen shoulder. I have been thinking of a simple way in bed resting each nights. kekekekekeke
Finally I tried doing everything using my Kenwood titanium and I only wrap. Trial and error until it is ok to write out a recipe – hence the easy char siu baozi is born! It also takes only 3 hours max from starting to tummy!
I must have made this about 5 times now in so many weeks. Before I only ever make baozi once in a blue moon as I can easily buy here in London. Lockdown ……punya pasal. We have to make everything ourselves. Luckily I like cooking.
TIP – I will take a pic and update when I can get the flour I preferred. I made a second round for these pics yesterday using cake flour and it was not too bad but not as white as the other bao flour with a green cabbage in front of the packaging. You can get the flour from most Chinese supermarket in UK. Any low gluten bleached flour is all right to use. Just your baozi will be less white.
Update 07/01/2022 This is the flour I used besides the cake flour in the old pics.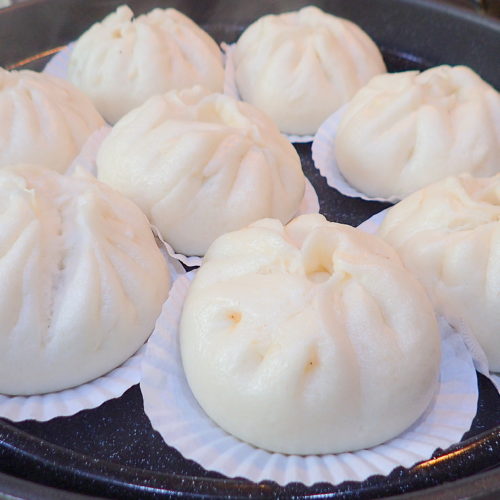 Easy Char Siu Baozi (叉烧包)
Ingredients
Group A
250

g

Low gluten flour

2

pkt (7g)

Yeast

200

ml

Water (tepid)
Group B
200

g

Low gluten flour

80

g

Castor sugar

1

tsp

Double action baking powder

half

tsp

Amonia powder (optional, to make baozi white)

55

ml

Oil (sunflower or vegetable)

pinch

Salt

1 – 2

tbsp

water – just enough to bind nicely.
Instructions
Group A
Mix all the ingredients and mix for about 5 minutes (knead well) Cover with a dry cotton cloth and leave it for an hour if hot weather AND 2 hours in UK (until mixture double in size.
Group B
Add Group B ingredients into group A and knead well with dough hook.

Cover and let it rest till double in size (30 minutes or so)
Wrapping
Divide your dough into 16 x 50g each or 'agak-agak' 15 as I have 3 baskets so 5 in each. Please look at pics. If you have leftover dough I usually divide them and add to each balls or you can just bin or you can make just a plain bao.
Steaming
Rest the baozi for at least 30 minutes, UNCOVERED then steam for 8 – 9 minutes at high heat.

Only put the baozi to steam when your water is boiling.

Remove from the boiling water when done.

To eat the next day just microwave 20 seconds or re-steam them.

To freeze – I have not tried as never had the chance so if you do please update me.
Notes
TIP – After you have wrapped your baozi shape with both hands – like cupping to make it round and nice. Then put it into your ready greaseproof paper. I use cupcakes paper.
TIP – Make your filling a day or 2 before. use from the fridge. Use a tad more corn flour to make the sauce so when your baozi is baked inside is juicy and not dry.
TIP – Always use the side you roll for the filling as this is the more sticky side. Do not flip over to use. 
TIP – For a better seal you can dot a few light dots of water (NOT TOO MUCH) just a few dots all round the skin before you wrap your folds.