The pipa ( Chinese: 琵琶) pronounced as 'pee-pah' is a four-stringed Chinese musical instrument, belonging to the plucked category of instruments. Sometimes called the Chinese lute, the instrument has a pear-shaped wooden body with a varying number of frets ranging from 12 to 26. Pipa toufo should resemble the shape of a pipa.
Every time I go outside to have food, admittedly not that often, I always order pipa toufo if it's in the menu list. I love this dish a lot but I have always shy away from making it as I don't like the frying bit. However as my old recipe was in the old blog which is lost, it is time to update into this new blog but with hopefully a new look. I wanted to make for some weeks now as I have not been in any eatery places barred once this entire year! (Covid19)
For the past few weeks I was really looking forward to cooking and eating this. Needless to say as you can see from these pics, today I am wearing a huge smile on my face. Recently I have been challenging myself to try and plate Asian food nicely, I am quite happy today with my amateurish attempt. One needs to try in order to learn right?
Actually with age come wisdom? Experiences of cooking thus far enable me to fry these babies with NO SPITTING at all. I tried my ideas today and it worked! So I will share my TIPs
TIP 1 – Steaming the pipa toufo the night before and allowing them to 'dry' overnight is helpful in the no spitting department.
TIP – Coating the pipa toufo and letting them rest for 30 minutes before a quick frying is double happiness to NO SPITTING 😀
TIP – I always thought pipa toufo can look better. More like a pipa (琵琶) so I have decided to use a mushroom stalk and some chives. I am wearing a happy smile because it works. Well I think in my eyes my pipa toufo looks more like a pipa 😀
TIP – You may and can change the protein but remember not to liquefied them or your pipa toufo will taste tough. Likewise you can add water chestnuts, spring onions and others. using celery is good too as it gives that extra crunch.
TIP – I used a shimeji mushroom for the pipa look and chives for the pipa strings. 😀
Again use my recipe as a guide, mind my TIPS and own this recipe yourself. Good luck and enjoy cooking.
Disclaimer – Written quickly, if you find any mistakes please poke me as I am lazy to check now. 😀
Some friends have been poking/nagging me to update my blog as it is still missing a lot of recipes from the old blog. I have also not updated this blog for a while. However, though I have been cooking, I just don't think my daily cooks deserved or needed to be blogged.
Update : TIP – Not only must you not mince your protein and toufo too much you must also DRAIN your toufo well before mixing so your paste is easier to handle and not liquidly.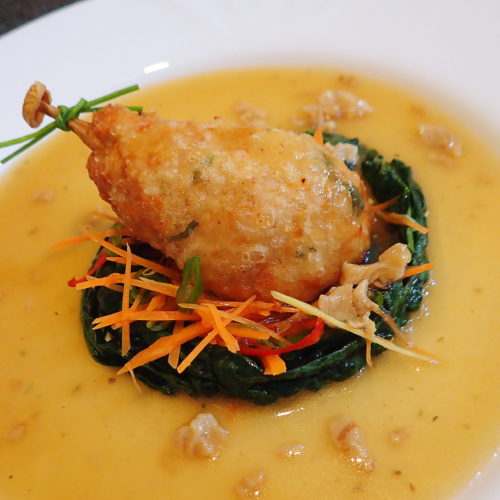 Pipa Tofu ( 琵琶豆腐 )
Ingredients
1

bowl

Toufo

1

bowl

Prawns

1

bowl

Chicken

Pinch

Pepper

Half

bowl

Carrots – mini cubes

Half

bowl

Coriander stems – cut smalls

Half

tbsp

Sugar

2 – 3

tbsp

Cornflour

2

tbsp

Soy sauce

2

tbsp

Chicken Powder

1

Egg white only

Half

cup

Rice wine
Forming the pipa toufo
Sesame oil to oil hand

Oil for frying

Ceramic soup spoons
Flour for coating.
Half

bowl

Rice flour for coating

Half

bowl

Tapioca starch for coating
Sauce ingredients
1

tbsp

Minced garlic (fry with a touch of oil, I used pork lard)

2

bowl

Chicken stock + dried scallops soaked

Reserved liquid from the steaming pipa toufo

Half

cup

Rice wine

1

tbsp

Chicken powder

1

tsp

Sugar

2

tbsp

Corn-starch slurry
Instructions
Step 1 – Mixture
I used a mix of prawns and chicken. Minced but not overly fine until runny! Just mix everything, seasoning and all.
Step 2 – Shaped and steam.
Oil your spoons, form the paste and steamed 10 minutes medium heat. Do NOT throw away the juice that will come out. Collect them into a small bowl and reserve for making sauce.

After steaming arrange in a container and keep in fridge till you want to cook them.
Step 3 – Frying
Fry for literally 2 minutes in hot oil. Inside should still be soft and outer layer crunchy. Please do not fry till it's hard and dry!

Set to drain before serving.
Step 4 – Saucing.
Fry the garlic and add in 2 bowls of dried scallops chicken stock plus all the reserved liquid from the steaming pipa toufo process. Add the corn-starch slurry. Seasoned.