On the first day of Chinese Lunar New Year, I fried vermicelli noodles with vegetarian mock duck/goose. However hubby was not really impressed. He said it did not taste of much except sweetness. He is terrible. kekekekeke
As I am not fully well and having a stupid weakness still after two months post Covid19 I did not make any for us this year. However I am getting stronger and stronger each day and I do not mind making this as it is easy and my daughter helped with all the washing, cleaning and pounding ginger to get juice etc. Also this takes 2 days so make the marinate and brush the beancurd sheets one day, steam and pack the next.
As usual my recipe is a guide. Adjust it to your taste. However the most important thing is not to use any 'dark' sauces, like vegetarian soy sauce or oyster sauce etc. This is because this will make your vegetarian goose/mock duck dark.
TIP – That 2 tablespoon of tomato sauce gives you that nice 'goosey' coloured skin. That's the secret shared!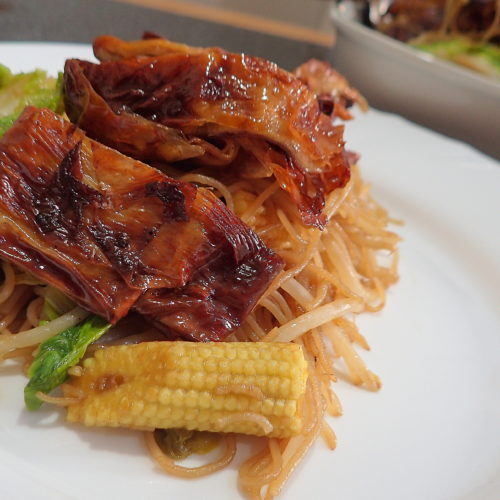 Vegetarian Goose 素鵝 (mock duck)
Ingredients
Ingredients for Marinate
1

pkt

Beancurd sheets (was 10 in a pkt before but now I found 9 only!)

2

Large cubes

Red fermented beancurd + 2 tbsp juice

2 – 3

tbsp

Honey

2

tbsp

Sesame Oil 

2 -3

tsp

Five-spice powder  

1

cup

Ginger juice – pound and squeeze the juice. (If you are using strong ginger then HALF cup) UK has lousy ginger.

1

cup

Water

2 – 3

tbsp

Castor Sugar

2

tbsp

Tomato sauce OR 1 tbsp vinegar

Pepper (optional)

Enough bamboo skewers
Instructions
This are the beancurd sheets I used. I bought them from the frozen section of the Chinese supermarket.

Mix all the ingredients above and brush the marinate all over the beancurd sheets

Fold them as thick or as thin as you like or whichever shape but try to use the book folds method, like when you are making puff pastry. Remember to brush the marinate each time you fold.

Use some skewers to hold the folded sheets together so that when you fry them they won't separate.

Store in a container. Keep them in the refrigerator overnight to 'germinate'

The next day, you need to steam them. Steam on medium heat for 8 – 10 minutes. Do NOT steam too long for if they get too soft it will be very difficult to handle.

Use a fish spatula or 2 flat spatulas to help you lift them from the steamer.

Place on a rack to dry a bit before packing or frying to eat.

If you want to fry some to eat. Use about 2 cm of oil and medium heat.

After steaming and drying a bit I vacuumed sealed mine and freeze them for a rainy day.

TIP – oil the steamer plate/tray before you place your vegetarian goose to steam.